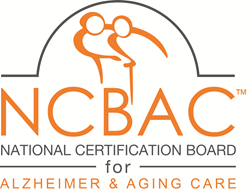 "Our driving principle is quality elder care and this is another step forward."
CHICAGO (PRWEB) May 25, 2018
One earmark of professional certifications is that individuals holding the certification need to commit to additional education annually. The continuing education (CEs) is aimed at helping individuals update their knowledge and stay current in their work.
In June, NCBAC will begin publication of two monthly newsletters aimed at helping professionals with key certifications stay current in their work.
Those holding Certified Alzheimer Educator (CAEd™) and Certified Alzheimer Caregiver (CAC™) will benefit from the new "Certified Caregiver Update". the first edition will be available in mid-June of this year. The Update will feature articles and professional tips from those working in the field. Quiz questions can count toward CE requirements.
Individuals who are CRTS™ certified will benefit from the "Certified Relocation Specialist Update" which will first be published at the end of June. Similar to the Caregiver Update, it will offer questions that will count toward CE credits.
Persons working in the field who are not certified, can also sign up for the Updates through the NCBAC website beginning in June.
Donna Surges Tatum, President of NCBAC adds, "We're excited to be able to add these new information sources to our certification program. Our driving principle is quality elder care and we believe this is another step forward."
NCBAC is the only independent national board that follows the healthcare certification/licensure model to administer standardized certification examinations in dementia care. The purpose of the Board is to provide a benchmark for core competencies and knowledge for those who provide care and education in the field of dementia.
Trademarks are the property of Meaningful Measurement, Inc.