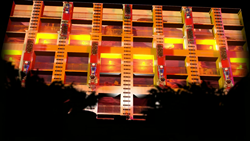 "This year we're delighted to offer our guests and locals alike an exciting iteration of PaintScaping that for the first time features an integration of SkyWatch into the beloved show," notes Bruce Lange, General Manager of the premier resort.
SCOTTSDALE, Ariz. (PRWEB) May 24, 2018
Once again, The Westin Kierland Resort & Spa leads the way in utilizing 3D projection mapping to offer an inimitable entertainment experience fit for the entire family.
For the past 5 years, guests at the hotel have enjoyed a unique summer digital mapping show, produced by LA-based PaintScaping. The 11-story high nighttime spectacular, playing every night, has featured Aaron Copland music, patriotic 3D imagery, and even Thunderbird virtual planes. And every year, the guests have been thrilled by an updated show featuring a new and exciting extra minute. But all that is about to change.
"It's a brand new show," exclaims Philippe Bergeron, CEO of PaintScaping, and executive producer of the new offering. Titled "48," the show will blend history, culture and spectacle to celebrate Arizona, the country's 48th state. Featuring a stylized 3D train going through the desert landscape, vintage Arizona postcards and dual cacti dancing to the soaring notes of Rawhide, and Dancing with Wolves, the 3D mapping will run every night, from Memorial Day to July 4.
3D mapping is the art of seamlessly merging real and virtual worlds. The entire show is designed specifically for the architecture of The Westin Kierland Resort & Spa and no other. So perfect are the effects, guests sometimes wonder, "Is this real, or is this PaintScaping?"
"We love it when we fool the audience," continues Bergeron. Indeed, Bergeron has created trompe-l'oeil presentations for many high-level clients, including MGM Resorts, Sony Pictures, Rodeo Drive, and the Ritz-Carlton. But there's more to mapping than resorts. PaintScaping has also worked with many stars, including Eminem, Arnold Schwarzenegger, Cardi B, and Rihanna. In fact, PaintScaping's work is the cornerstone of Rihanna's music video "This Is What You Came For". At 2 billion views, PaintScaping is proud to say, the video may feature the most viewed mapping in history.
But there's more. PaintScaping will actually incorporate The Westin Kierland Resort & Spa's new 300-square-foot SkyWatch large-format television.
"This year we're delighted to offer our guests and locals alike an exciting iteration of PaintScaping that for the first time features an integration of SkyWatch into the beloved show," notes Bruce Lange, General Manager of the premier resort. "Our continued partnership with PaintScaping underscores our commitment to bringing truly only-here experiences to our guests, experiences we hope create memories that last far beyond a visit to our resort," continues Lange.
With all PaintScaping's experience in redefining reality, Bergeron guarantees that his latest achievement in Arizona will be one to remember.
------------
WHEN: Memorial Day weekend through Labor Day weekend 2018 on Friday and Saturday evenings.
WHERE: The Westin Kierland Resort & Spa, Scottsdale, Arizona
WHAT: A cool 3D mapping about the culture and history of Arizona.
HOW MUCH: Free of charge
About PaintScaping
PaintScaping is the industry leader in 3D mapping. Founded in 2009 by Philippe Bergeron, the Los Angeles-based company has produced unique 3D mapping shows across the U.S. including Orlando, Los Angeles, Las Vegas, New York and Chicago, and many places around the world. Among its many clients are MGM Resorts, Ritz-Carlton, Sony Pictures, Westin Hotels, Caruso Affiliated, and Cirque du Soleil.
About The Westin Kierland Resort & Spa
Set on 250 acres in North Scottsdale, The Westin Kierland Resort & Spa provides contemporary amenities and design paired with an ever-changing collection of distinctive experiences that bring to life the "Essence of Arizona." A revitalizing desert oasis, the property features a collection of 10 dining venues serving an eclectic mix of the area's finest flavors; Agave, The Arizona Spa, a full-service rejuvenating destination showcasing rare, desert-inspired treatments and traditional therapies; and The Westin Kierland Golf Club, providing the area's most innovative golf program with rolling greens across 27 holes and a first-of-its-kind fleet of GolfBoards and golf bikes, Kierland TurfRiders and Segway golf. Complementing the resort's premier amenities, the award-winning FUN program offers a bevy of rotating Arizona excursions and on-property activities, including the property's Adventure Water Park that is home to a 110-foot-long waterslide, 900-foot lazy river and the Kierland FlowRider board-sport simulator. A leading destination for meetings and events located steps from premier shopping and dining, the Resort boasts more than 200,000 square feet of well-appointed indoor and outdoor space, and features the renowned portfolio of signature Westin wellness offerings. http://www.kierlandresort.com
About Philippe Bergeron
Philippe Bergeron is founder and CEO of PaintScaping, a global leader in 3D projection mapping. PaintScaping has done mapping in the USA, Mexico, Canada, France, Ireland, and South Africa. Bergeron, a native of Montreal with a B.S. and M.S. degree in computer science from the University of Montreal, remains a 3D mapping innovator and invited presenter for numerous industry events.
Philippe Bergeron is available for interviews.
Video and photos are also available on request.