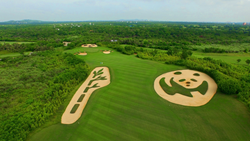 (PRWEB) May 28, 2018
Recent measures announced by Chinese President Xi Jinping to further open up Hainan will provide a major boost to golf tourism on China's tropical island province, according to experts.
Visitors from 59 countries including Australia, Germany, Great Britain, New Zealand, Russia, Singapore, Spain and the United States can now enter Hainan visa-free for up to 30 days each time, according to new policies aimed at opening up the island known as 'China's Hawaii'.
Other measures announced for the province include the introduction of free trade, sports betting and duty free shopping, all of which will provide a significant boost to the golf tourism market in Hainan, say some of the sport's stakeholders.
Hainan Island is already a popular destination for Chinese tourists, attracting 60 million visitors from the mainland in 2017.
Greg Gilligan, Vice President of the PGA TOUR and Managing Director of Greater China commented:
"Hainan Island was a popular choice for the PGA Tour Series-China's International Qualifying Tournaments in early 2018. We were delighted to return to Mission Hills Haikou, where the Tour started back in 2014 and current China No. 1 Li Haotong made his Tour debut as an 18-year-old on his way to winning three titles and the inaugural Order of Merit."
"Hainan offers some of the best golf courses in China and in our first four seasons, the Tour has held five regular-season events on the island. We believe the new Government reforms will attract even more international golfers to Hainan, where the tropical climate and clean air has regularly provided our professional golfers with an unforgettable experience."
Brian Curley of Schmidt-Curley Design, a member of the American Society of Golf Course Architects said:
"With more than 40 courses on the island, Hainan is emerging as one of the top golfing destinations in Asia in terms of quality and choice of golf, combined with five-star hospitality and a year-round tropical climate."
"Schmidt-Curley is proud of the 10 courses we designed at Mission Hills Haikou, including the flagship Blackstone Course which recently entered Golf Digest's 100 Greatest Golf Courses for the first time at number 48. The new reforms for Hainan will allow even more overseas golfers to experience not only Mission Hills but many wonderful courses in Hainan."
Peter Walton, Chief Executive of the International Association of Golf Tour Operators (IAGTO), with more than 2,500 member companies, said:
"Already the island's international visitors increased by 50% to 1.1 million last year, so the visa-free access should certainly encourage more golf travel from around the world to the wealth of great courses from Mission Hills in Haikou, south to Sanya and all along the east coast in between."
Located close to Hainan's capital city of Haikou, Mission Hills is recognized by the Guinness Records as the world's largest public golf facility, with 10 courses, including the flagship Blackstone Course, host to championships such as the World Cup, the World Ladies Championship, the Match at Mission Hills between Tiger Woods and Rory McIlroy and the biennial World Celebrity Pro-Am.
Tenniel Chu, Group Vice-Chairman of Mission Hills added:
"There has been a huge boost in interest from overseas golfers and golf tour operators since the new reforms were announced for Hainan. There are currently 23 international cities outside of mainland China with direct flights into Haikou, many of them bringing golf tourists. With the new policies, we predict that the number of overseas golfers coming to Hainan will be boosted by a further 60 per cent in the next 12 months alone."
ABOUT MISSION HILLS GROUP
Mission Hills Group, owner and operator of Mission Hills resorts in the heart of the Pearl River Delta and on the tropical island of Hainan, is synonymous with leisure, wellness, entertainment and luxury.
Founded in 1992, Mission Hills is recognized as one of the world's leading golf brands and a pioneer in China's hospitality, sports and leisure industry. The world-class integrated leisure and wellness resort destinations have hosted more than 100 international tournaments, dating back to the World Cup of Golf in 1995, the first international golf tournament in China. Mission Hills has also been accredited by the Guinness World Records as the "World's Largest Golf Club" and the "World's Largest Mineral Springs and Spa Resort".
Mission Hills' properties sprawl over 40 square kilometres. They include 22 championship courses designed by renowned players and architects from five continents, five-star resorts, award-winning spas and volcanic mineral springs, international convention centres, state-of-the-art golf academies, a 20-pitch football training base, Asia's largest basketball school and Asia's biggest tennis facility. Mission Hills is also the official training headquarters for China's Tennis, Football and Golf Associations.
The Group's 'golf and more' leisure philosophy has seen its tourism-related business expand into a leisure hub for multi-generational families. Mission Hills Centreville in Shenzhen and Haikou provides integrated shopping, recreational, business, education, entertainment, leisure and cultural experiences, including Bromsgrove School Mission Hills in Shenzhen in collaboration with the historic British boarding school. Mission Hills has also extended its foray into the hospitality industry by partnering with world-renowned hotel brands such as Hard Rock, Renaissance and Ritz-Carlton. These collaborations have seen the opening of Ritz-Carlton's first golf resort hotel in China and China's first Hard Rock Hotel in Shenzhen.
Other significant projects include Movie Town in Haikou in partnership with China's largest film production company, Huayi Brothers Media Corporation and award-winning director, Feng Xiaogang and China's first Wet'n'Wild water park in collaboration with Australia's leading entertainment group and largest theme park operator, Village Roadshow Limited.
Mission Hills has also announced ground-breaking partnerships with FC Barcelona and the NBA to bring the world's most famous football club and the world's largest professional basketball league to its Haikou resort, making Hainan island a leading hub for football and basketball development in China.
For more information and latest updates, visit http://www.missionhillschina.com or follow Mission Hills China on Facebook, Instagram, LinkedIn, Twitter and YouTube.