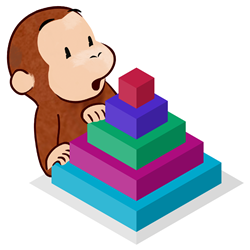 LONDON (PRWEB) May 30, 2018
Sandbox & Co (SBX) announced the acquisition of kids' edutainment app Curious World from global learning company Houghton Mifflin Harcourt (HMH) on behalf of Figjam Group Ltd. Figjam owns a portfolio of digital products and services that make learning fun. Curious World will be a complimentary addition to SBX's portfolio of 9 leading brands which reach over 20 million millennial families and kids including Poptropica, Tinybop, Hopster, Funbrain and Family Education to name a few.
Curious World (CW) content is built across 8 key learning areas combined with a parental dashboard that helps parents track their children's activity without intrusion. It includes leading content from the Curious George books and app series while also providing 'beyond-screen' activities. As the winner of Kidscreen's 2017 Best Learning App award, CW is fun, safe and completely ad-free. With this acquisition CW will benefit from SBX's strong trajectory of growing portfolio products across markets and segments by employing their worldwide distribution and partnership networks as well as their deep understanding of localizing content for diverse audience groups.
"Curious World is truly focused on a child's learning in a fun and engaging manner," says Bhav Singh, Founder and CEO of SBX, "We've been fans of CW's ability to curate highly engaging original content for kids married with highly sophisticated personalization tools ever since it was launched and when the opportunity came to add it to our portfolio, it was a no-brainer." Singh is a media and learning ecosystem specialist with over 15 years' experience. Prior to setting up SBX, he led high growth divisions with media giant Viacom scaling their emerging markets business and subsequently as the CEO of Pearson English and informal learning at Pearson PLC.
"Curious World's playful learning ecosystem was built from the ground up by a passionate team here at HMH. It was very important for us to find a partner that would understand and honor the essence of what we've built with Curious World and continue to fulfill its potential by sharing the app's dynamic content with kids and families," says Caroline Fraser, SVP and Head of HMH Productions.
As a leading pre-school edutainment destination that redefines playful learning, CW's popularity and growing subscription base will further strengthen SBX's foothold in the US. More importantly, this strategic acquisition adds to SBX's edutainment offering across every millennial digital touch point.
About Sandbox & Co
Founded by media and learning expert Bhav Singh, Sandbox and Co (SBX) is a millennial education company with engaging online products and services that make learning fun. At the intersection of the digital, learning & media industries, SBX brands embrace technological advancements, focus on globally relevant core subjects that center on children's interests and help develop 21st century skills.
SBX represents and strategically operates Figjam controlled and invested entities – a suite of 9 brands, most of which are leaders in their own segment and have won several awards. Portfolio companies include Poptropica, Tinybop, Hopster, Family Education, TeacherVision, Super Awesome, StoryArc Media, Fact Monster, InfoPlease and Funbrain. SBX is committed to providing an unparalleled ecosystem of edutainment products focused on 2-12 year old kids, and currently reach over 20 million children, their millennial parents and teachers. For more information, please visit http://www.sandboxandco.com.
About Houghton Mifflin Harcourt
Houghton Mifflin Harcourt (NASDAQ:HMHC) is a global learning company committed to delivering integrated solutions that engage learners, empower educators and improve student outcomes. As a leading provider of K–12 core curriculum, supplemental solutions and professional learning services, HMH partners with educators and school districts to uncover solutions that unlock students' potential and extend teachers' capabilities. HMH serves more than 50 million students and 3 million educators in 150 countries, while its award-winning children's books, novels, non-fiction, and reference titles are enjoyed by readers throughout the world. For more information, visit http://www.hmhco.com