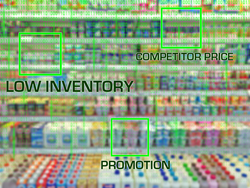 MIAMI (PRWEB) May 30, 2018
VisitBasis Tech, the software company from Hallandale Beach, Florida, has been developing high-tech upgrades to its namesake mobile retail data capture solution.
"We have been working on incorporating image recognition technology onto our software for retail audits", announces Sergey Gorbunov, CEO of VisitBasis.
Image recognition technology on a retail audit application allows for the automatic capture of, for instance, information such as pricing, inventory levels, and competitor data directly from a picture of supermarket shelves. This means that, past the picture-taking stage, no human interaction is needed in inputting these critical pieces of information, greatly minimizing user errors and speeding up data collection.
"Our experience tells us that it takes around one minute per product that a rep has to find on the shelf and gather pricing and availability information", adds Sergey. "We can see how this adds up when you have 20, maybe 25 products on a product category shelving at the store. With image recognition technology, our system will be able to extract that sort of information from all products - including competing ones - from one single picture".
Image recognition technology is expected to be available for current VisitBasis users within the next few months. For more information on the current VisitBasis version, go to http://www.visitbasis.com.
About VisitBasis Tech, Llc.
VisitBasis is a B2B software-as-a-service (SaaS) company specialized in the development of cost-effective, cutting-edge, and comprehensive mobile solutions that aim to increase sales and reduce costs, improving the bottom-line of businesses that rely on field professionals. The key benefit of VisitBasis mobile merchandising app is to optimize retail execution, merchandising, field marketing, mobile data collection, retail audits, territory management, sales rep planning, tracking sales, mobile staff management, electronic product catalog, sales enablement, among others, especially in the consumer product goods (CPG) and fast-moving consumer goods (FMCG) industries. Other VisitBasis products include VisitEye and Pocady.