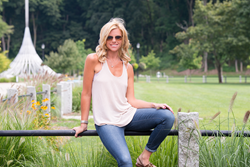 Life is more meaningful and enjoyable when physical, emotional, social, spiritual and intellectual components are in balance. There should be no strict regiments. Instead choice should be the guiding principle.
HUNTINGTON, NY (PRWEB) May 28, 2018
Christine Caruso, Director of The Nourished Group ("The Nourished Group" or the "Company"), a company dedicated to integrated health and wellness, announced the launch of its new website today. The newly designed website allows the Company's customers quick and easy access to service information while offering a seamless user experience. The new website offers recipes, news, and wellness methodologies allowing users to enjoy a deeper understanding of The Nourished Group services and how to use them in their personal experience.
The website has a spirited format, industry standard functionality and enhanced content focused on the Company's mission to provide education, community and support helping Bariatric Surgery patients achieve their health goals through lifestyle and behavior adjustments.  Christine Caruso began her life's work 12 years ago, becoming her first client. "On a sunny day in May, I took back control of my life and never once have I looked back with regret. The Nourished Group was born on that same sunny day," says Caruso. "Recognizing that I had the power to create the life I wanted was all I needed to remove the excuses for why my life was where it was."
At 289 pounds, Caruso faced several health issues ranging from pre-diabetes to heart disease, and has since lost over 150 pounds through the application of lifestyle and behavior adjustments she now teaches others.
"The Nourished Group is the result of that journey, no one truly knows your struggle unless they have walked in your shoes," Caruso continues. "I knew I wanted to help those like me but did not have the courage or the education to do so confidently. My life experience gives me the knowledge of what post-surgery life looks like and my certification gives me the education to help others confidently."
Caruso's journey has come full circle, acquiring a NYS Certified Integrative Nutrition Health Coach certificate in the Greater New York Area. The Nourished Group was officially created in 2017 with a focus on serving the needs of bariatric surgery patients. After having bariatric surgery herself, Caruso realized that the challenges she faced were just beginning, and there were few resources available to the bariatric community. Her personal system of reintegration back to health and wellness became the foundation for The Nourished Group.
ABOUT THE COMPANY:
Founded in 2017 in HUNTINGTON, NY, The Nourished Group is a service company dedicated to the support, education and community awareness of bariatric surgery patients engaged in dramatic weight loss. The Company's mission is improving the the health and happiness of our community and through that process create a ripple effect that transforms the world. To create an environment that brings a community together to focus on a common goal. The greatest motivation for self improvement is contributing to the betterment of others.
Christine Caruso is a health and wellness coach and received her NYS Certified Integrative Nutrition Health Coach certificate from The Institute for Integrative Nutrition and practices in New York State. Caruso lives in Huntington, NY.
https://www.instagram.com/thenourishedgroup/
https://www.facebook.com/thenourishedgroup/