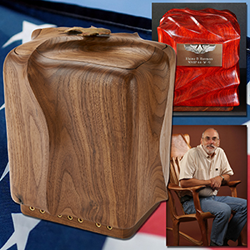 I want these families who have already sacrificed so much to be able to have something nice to hold their loved ones' remains during their ceremony.
PARKERSBURG, W. Va. (PRWEB) May 25, 2018
As Americans prepare to honor those who have died in service to their country on Memorial Day weekend, Woodcraft is sharing the story of one man who found a unique way to make military inurnment services more meaningful.
"At a military service, the bugles play taps, the guns go off; it's a very moving ceremony," Boise, Idaho, resident John Sword said. "But all of this is going on over top of a black plastic box. It seemed like there should be something nicer, more special."
In 2009, Sword and his wife, Heidi Egerman, launched Everlasting Tree, creating and marketing one-of-a-kind boxes and cremation urns. They sell to the general public, but John estimates that he has made "around 40" ceremonial urns for veterans, which he gives to military cemeteries and veterans organizations through the Veterans Administration. He's not certain of that number because they don't inventory the ones for veterans. "We always donate those. We will never sell them," John said. "I want these families who have already sacrificed so much to be able to have something nice to hold their loved ones' remains during their ceremony and something that could be reused by many veterans' families."
To learn more about John, click here to read the blog that tells his story – what inspired him to begin designing and creating these one-of-a-kind ceremonial urns and how his project has expanded over time.
As Sword explained it, cremation ashes are typically placed into a secure sealed bag and then into a black plastic box for the ceremony. "The boxes from the funeral home are about 200 cubic inches; that seems to be the industry standard," he said. The wooden boxes John makes—with their highly figured grain patterns and hand-rubbed finish— allow the black boxes to fit down inside of them. He adds a nylon strap inside, which can be used to lift up the contents of the wooden boxes.
What makes a veteran's urn different than any other urn? Two things in particular are exclusive to the veterans' design. Each has a bronze leaf replica on the lid, which is a casting of an actual leaf collected at Arlington National Cemetery and made by Valley Bronze of Oregon, a company that has done other monumental and ornamental metal projects for historic sites.
The second unique feature of the veterans' urns is the soil that is incorporated into the bases. Numerous holes are drilled in the base of the urn and are plugged with a brass cap. Soil or sand from a battlefield like Omaha Beach or Pearl Harbor is placed there "to represent the battlegrounds where veterans fought and so many lost their lives," John said.
More Designs & Memorial Pens
Sword's passion to honor deceased veterans has led him to expand his designs to include ones that honor Women Airforce Service Pilots (WASP) and Medal of Honor and Purple Heart recipients.
Boise Woodcraft owner Monte Eldfrick and his sales team are now supporting Sword's urn projects by donating matching pens. Pens are turned from the leftover wood used to make the ceremonial urns and are accompanied by a note that explains who made the pen and its wood source.
The Boise store participates in the Woodcraft Turn for Troops program that has sent nearly 160,000 wooden pens in total to US servicemen and women on active duty or recovering in rehabilitation centers in 14 years. Boise Woodcraft employees and volunteers have submitted more than 15,000 pens in that time, consistently one of the top donating stores.
For more information about Sword and his unique burial urns, visit http://www.everlastingtree.com.
To learn more about Woodcraft, please contact the store nearest you, visit http://www.woodcraft.com or call (800) 535-4482. For more information about Woodcraft franchise opportunities, visit http://www.woodcraftfranchise.com or email woodcraftfranchise@woodcraft.com. Customers can follow Woodcraft on Facebook, Twitter, Instagram, YouTube, Pinterest and Woodworking Adventures, the company blog.