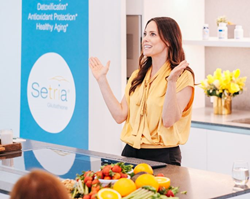 NEW YORK (PRWEB) May 29, 2018
Two recent Master Classes held at Project Farmhouse in New York City provided the perfect environment for an educational forum on the power of glutathione, "Master Antioxidant" and the role that it plays in immunity and detoxification as part of healthy aging.
In her opening remarks, Keri Glassman explained why glutathione is called the "Master Antioxidant". "Glutathione not only neutralizes free radicals by itself, it also has the ability to reactivate other antioxidants, such as vitamins C and E. After antioxidants like vitamin C and E neutralize free radicals, they become unstable radicals themselves. Glutathione helps recycle these unstable molecules, returning them to active duty and extending their abilities to scavenge for and neutralize oxidants."
As a registered dietitian and nutritionist, Keri always recommends that our diet should be our key source of nutrition, but in reality, our busy lifestyles often prevent this. So, a little additional "health insurance" can make all the difference. The audience was encouraged to pick their top glutathione rich food from a list of the top six. Asparagus was number one, followed by avocado, spinach, oranges and lastly walnuts!
Delving deeper into healthy lifestyles and the role glutathione plays, Keri took the participants through two specific functions:
Immunity: Our immune system is a system of cells that work in the body to destroy pathogens and cancerous cells. Glutathione contributes to the stimulation of natural killer cells, increases white blood cell count and neutralizes free radicals while helping to regulate apoptosis.
Detoxification: Glutathione helps eliminate toxins, chemicals and potential carcinogens that have made their way into the body and become absorbed. It is most abundant in the liver and the kidneys, the primary detox and elimination organs. It also protects the DNA against damage or mutation caused by harmful chemicals, environmental agent or damaging lifestyle habits. While your body's systems come equipped with a complex set of mechanisms and compounds designed to eliminate toxins, your body can continually absorb more through food, water and air. Ridding your body of common toxins can help increase energy levels, boost your immune system, and it promotes healthy aging and overall wellness.
"Glutathione is present in every cell of the body, but as we age glutathione levels decrease due to various factors including UV irradiation, alcohol, cigarettes, drugs and chemicals," commented Keri. "It's important that we up our glutathione levels to ensure that we get the protection this master antioxidant can provide."
Kyowa Hakko, a global manufacturer of research-backed Setria® Glutathione, conducted a study on glutathione which found that daily consumption of glutathione supplements was effective at increasing the amount of glutathione in the human body by up to 35 percent when taken daily at a dose of 1,000 milligrams for six months.
"I really enjoyed the presentation. I never realized what a powerhouse glutathione was and how important is is especially as a woman who is now over 40. It's something that I'm really going to take into account in my daily regimen and especially in advising others." Solana Nolfo
Media interested in setting up an interview with Keri Glassman, or a representative from Kyowa Hakko, to discuss the health benefits of glutathione, please contact Giselle Cholette: giselle@adinnyc.com, 212-693-2150.
About Setria® Glutathione
Setria® Glutathione, manufactured by Kyowa Hakko Bio Co., Ltd., is a clinically studied and patented form of glutathione that, when taken orally2, has been shown to replenish the body's reserves, which may be depleted as a result of poor lifestyle choices, stress or natural aging. Called the "master antioxidant," glutathione helps protect cells in the body from the damaging effects of oxidative stress and toxins. Setria® Glutathione is manufactured through fermentation process to yield high purity and high quality, is vegetarian and allergen-free. For more information about Setria® Glutathione, visit http://www.SetriaGlutathione.com.
About Kyowa Hakko USA
Kyowa Hakko USA is the North & South American office for Kyowa Hakko Bio Co. Ltd., an international health ingredients manufacturer and world leader in the development, manufacturing, and marketing of pharmaceuticals, nutraceuticals and food products. For more information visit Kyowa-USA.com.
**Setria® is a registered trademark of KYOWA HAKKO BIO CO. LTD.