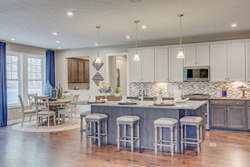 "We make building on your lot easy by outlining the process in just six simple steps," said Lazar. "And the best part is you get to live in the location of your choice in a home that has been created specifically around your lifestyle."
GREENSBURG, Va. (PRWEB) May 25, 2018
You have the perfect piece of land and a vision of what your dream home will look like. An elaborate gourmet kitchen for entertaining family and friends. A cozy family room for nights spent in front of the fireplace. Sun-splashed outdoor spaces for summer celebrations. You are excited just thinking about it, and K. Hovnanian® Homes Build On Your Lot is here to bring your new home to life.
"We can design and build the home you've always wanted in a way that leverages the unique topography and views of your selected piece of land," said Joel Lazar, Director of Sales and Marketing at the K. Hovnanian® Homes Build On Your Lot division. "We make building on your lot easy by outlining the process in just six simple steps. And the best part is you get to live in the location of your choice in a home that has been created specifically around your lifestyle."
Step 1: Choose your builder
You've found the ideal piece of land and now you need to find a respected home builder, like K. Hovnanian® Homes, to build on it. K. Hovnanian® Homes offers a history of solid success, financial strength and award-winning standards of homebuilding quality.
"We have been in the industry for nearly 60 years and are proud to be a trusted name in home building," said Lazar. "We know the prospect of building your own home can be overwhelming, that's why K. Hovnanian® Homes created the Build on Your Lot process. It allows you to match one of our unique home designs with your unique piece of land."
Step 2: Selections and Personalization
Once you have an understanding of the building process, you will visit a local K. Hovnanian® Homes Design Studio to browse through an electronic gallery of 38 varied and modern home designs that are created to fit an array of lifestyles and budgets. "You will also have the opportunity to touch and feel your home selections and walk through our fully decorated model homes," said Lazar. "Once you have selected your home design, you will work with your New Home Consultant at our Design Studio to add the options and finishes that complement your lifestyle today and your future tomorrow."
Step 3: Final Specifications
Once your home design is selected, K. Hovnanian® Homes will meet you at your home site to determine where your home will be situated. "You will also finalize options and colors, and we will provide you with final costs and purchase agreements at the Design Studio," said Lazar.
Step 4: Financing
To make financing easier, K. Hovnanian® Homes has preferred lenders that are ready and willing to guide you through the process of financing your home from start to finish. Construction to Permanent Mortgages (CP loans) are also available for qualified individuals. This is a three-stage process that allows you to (1) lock in your interest rate; (2) close on your loan before construction is started, and (3) convert the loan to a permanent mortgage upon completion of your new home.
Step 5: Building
Once the finalizing is set, the fun begins. "That's when you can sit back and admire our handiwork as we build your home from the ground up, based on everything you selected," said Lazar. "You are in great hands, as your skilled community construction manager guides you through our building process. You can rest easy knowing your new home is being built with utmost care and attention to detail."
Step 6: Move-in Day
The day you have been waiting for will be here before you know it. "With the keys to your new home firmly in your hand, you will be ready to start the next chapter of your life," said Lazar. "That's when the fun really begins."
Your Next Steps
Prospective homebuyers who are interested in building on their lot are encouraged to visit a K. Hovnanian® Homes Design Studio. If you need land, K. Hovnanian® Homes has recently unveiled its new Land Matching Program, which is a complimentary service that allows you to find your perfect homesite based on location, size and price. Build On Your Lot homes are priced from the $160s. To learn more, visit http://www.khov.com/dream or call 866-402-0364.
K. Hovnanian® Homes Build On Your Lot, LLC, is an affiliate and indirect subsidiary of Hovnanian Enterprises®, Inc.
ABOUT HOVNANIAN ENTERPRISES®, INC.
Hovnanian Enterprises, Inc., founded in 1959 by Kevork S. Hovnanian, is headquartered in Matawan, New Jersey and, through its subsidiaries, is one of the nation's largest homebuilders with operations in Arizona, California, Delaware, Florida, Georgia, Illinois, Maryland, New Jersey, Ohio, Pennsylvania, South Carolina, Texas, Virginia, Washington, D.C. and West Virginia. The Company's homes are marketed and sold under the trade names K. Hovnanian® Homes, Brighton Homes® and Parkwood Builders. Additionally, the Company's subsidiaries, as developers of K. Hovnanian's® Four Seasons communities, make the Company one of the nation's largest builders of active lifestyle communities.
Additional information on Hovnanian Enterprises, Inc., including a summary investment profile and the Company's 2017 annual report, can be accessed through the "Investor Relations" section of the Hovnanian Enterprises' website at http://www.khov.com. To be added to Hovnanian's investor e-mail list, please send an e-mail to IR@khov.com or sign up at http://khov.com.