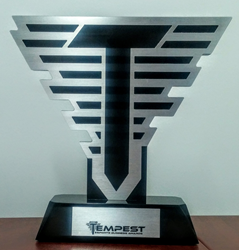 NORWALK, Conn. (PRWEB) May 31, 2018
Three of the largest media brands covering sports business, television and marketing, Cynopsis Sports, Chief Marketer, Event Marketer and parent company Access Intelligence, announced today the launch of the Esports Tempest Awards, a first-of-its-kind awards program to acknowledge the esports industry's most innovative companies and executives, with categories that span production, marketing, talent and technology. Judged by key members of the esports community, these awards serve as North America's top honors for the brands, the teams, the leagues, the players and the business leaders driving the competitive gaming industry today. Winners of the Tempest Awards will be announced live on stage at the Esports Business Summit at Caesars Palace in Las Vegas, October 2, and touted across digital channels reaching over 300,000 key sports and marketing executives. The esports industry is projected to be a $2 billion industry this year with countless business and marketing opportunities for companies that understand the industry and the unique audience that esports attracts. Call for entries for the Tempest Awards is now open.
The Esports Business Summit will take place October 1-3, 2018, at Caesars Palace in Las Vegas, and will focus on several key areas, including emerging trends, production technologies, marketing strategies, content building, measurement, venue selection, budgeting and more.
The reach and industry relationships that Access Intelligence's media brands have cultivated across key sectors of the esports business will benefit attendees and sponsors by delivering unique access to participants from all sectors of the esports industry and providing a forum for sharing insights and exploring business opportunities and strategic partnerships.
Leading the content programming for EBS is Chris Pursell, Director of Sports Content for Cynopsis Sports; along with Jessica Heasley, Content Director of Chief Marketer and Event Marketer. These media brands reach more than 300,000 executives across sports, television and marketing via their eletters, magazines, websites and events. The EBS speaking faculty will be comprised of key executives from brand marketing, television, leagues, sports and technology organizations who are growing their businesses by leveraging the passionate global audience that esports delivers.
The EBS content team has assembled an all-star Board of Advisors representing a cross-section of the esports ecosystem—including publishers, leagues, marketing agencies, brands, television, consulting firms and other key constituencies—who have agreed to provide input on the content program and overall conference experience. The EBS Board of Advisors includes:

Ann Hand, Chairman & CEO, Super League Gaming
Pete Vlastelica, CEO of Esports Leagues, Activision Blizzard
Ken Hershman, Executive Chairman and Commissioner, WESA
Robert Occhialini, VP of Esports Products & Technology, ELEAGUE/Turner Sports
Paul Brewer, Vice President, Global Partnerships, ESL
Nicole Pike, Managing Director, Esports, Nielsen
Matt Lederer, Executive Director, Partnership Marketing, Comcast
Josh Watson, Esports Operations Manager, Psyonix
Ryan Fitzpatrick, SVP, Lifestyle Marketing & Branded Entertainment, NCompass International
Kurt Melcher, Executive Director-Esports, Intersport
Michele Morrow, Host, ELEAGUE Street Fighter V International
Ben Nichol, Head of Events and Business Development, Sterling, VC
Brendan Donohue, Managing Director, NBA 2K League
Caleb Fox, Business Development Manager for Games & Esports, Microsoft
Nathan Lindberg, Director of Esports, Twitch
"We're excited to be working with this stellar group of industry executives to ensure that we deliver an unparalleled learning and networking experience for our attendees," noted Pursell. "This event is unique because it unites all sectors of the esports business, and our advisory board reflects this industry diversity, allowing us to deliver a unique networking and discovery experience to both esports veterans and those just discovering the business potential of this rapidly growing industry."
The Esports Business Summit is geared towards executives at consumer and business brands, marketing agencies, television companies, esports teams and leagues, sponsorship firms, game publishers, streaming companies, consulting firms, VC and investment firms, venues, sports marketing agencies, professional sports teams, and any business professional looking for education and connections in the esports marketplace.
Online registration is currently open and the full program, as well as exhibit and sponsorship opportunities, can be viewed at esportsbizsummit.com. The complete speaker roster and networking events schedule will be announced in June.
Access Intelligence, is a privately held, b-to-b media and information company headquartered in Rockville, MD, serving the marketing, media, PR, cable, healthcare management, defense, chemical engineering, satellite and aviation markets. Leading brands include PR News, Ad Exchanger, AdMonsters, Cynopsis, Cablefax, Folio:, Event Marketer, LeadsCon, Chief Marketer, Defense Daily Network, AviationToday, Studio Daily; Power, and Via Satellite. Market-leading conferences and trade shows include LeadsCon, AdMonsters OPS and Publisher Summits, The Folio: Show, Experiential Marketing Summit, SATELLITE 2018, OR Manager, LDC Gas Forums, Clean Gulf, and Electric Power.
Cynopsis and Cynopsis Sports, are read by more than 100,000 executives in sports and television in over 58 countries. Cynopsis eSports offers exclusive Q&As, expert data insights, the top businesscynopsis.com stories of the week, hot trailers and coming events in order to connect the dots for gaming industry, brands, technology, media and audiences.
Chief Marketer's 200,000 annual readers and attendees come from all marketing functions and levels at consumer package goods & manufacturing, retail, media & entertainment, financial, business services, hi-tech, as well as travel & hospitality companies, and the agencies that serve them.
Event Marketer serves the information needs of strategic brand-side event marketers and agency executives across the spectrum of face-to-face marketing. EM's portfolio includes the flagship magazine, EM Buzz enewsletter, the annual Experiential Marketing Summit executive conference, the Ex Awards, the annual EventTech technology conference and Experience Design & Technology Awards and more.