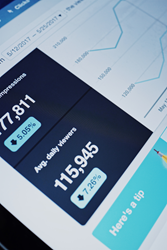 Marketing is no longer a guessing game, as there are ways to track and quantify this before you even spend a dollar.
HOUSTON (PRWEB) May 30, 2018
"As a business owner, are you blowing your marketing dollars?" asked CPA Gary Cooper, president and CEO of Cooper CPA Group, who focuses on tax planning/compliance, merger and acquisition consulting, business valuation and accounting consulting services. "If you answered yes, or even maybe, you can make sure you are tracking them effectively. I have clients that are business owners and I will ask, 'Why in the world are you spending that much money or in some cases, so little money on marketing?' Most say 'I don't know.' You need to know. Dollars add up."
Ask these questions first before you move forward in any marketing or advertising endeavor:
Do I actually have a tracking system in place?
Do I have an effective CRM system for future tracking?
Do I understand Google Analytics?
Can I quantify what it tells me?
Do I measure prospect activity and attempt to quantify the revenues generated based on the advertising and marketing placed?
Am I defining specific calls to action that drive business to specific revenue streams?
Can I quantify and track from Google Analytics to the bank and then ultimately to the revenue line item on my income statement?
Can I quantify the overall impact of advertising and marketing dollars spent on my bottom line?
Many people view marketing as throwing darts at a dartboard. However, it is not. People view it just as an expense they have, but can now be very particular. "Marketing is no longer a guessing game, as there are ways to track and quantify this before you even spend a dollar," noted Cooper.
Gaining an understanding of one's marketing and advertising dollars spent and how they can be properly tracked through financial information is crucial for any business. Business owners need to ask themselves if they are generating future revenues with marketing dollars spent, or accumulating overhead. "Are your revenues segmented by income stream where you can track the results of your advertising dollars spent? Do related expenses line up with segmented revenue streams where you can understand the net results and how each separate segment affects your bottom line?" asked Cooper.
Keep in mind that everything starts with revenues. A business has the purchase order, a vendor's invoice and, ultimately, a disbursement. All expenses incurred should have a specific purpose to assist in generating revenues. "This is especially true for marketing and advertising dollars spent," stressed Cooper.
It is also imperative to have processes and procedures in place where one can track revenues and expenses correctly through the general ledger. Lining up segmented revenue streams with related expenses is important to understand how to invest one's excess profits.
"With this information, you should be able to compute advertising dollars spent by revenue stream to the results reported in the income statement. You can then properly measure the impact of each dollar spent by business segment and specific revenue stream," concluded Cooper.
For more information about obtaining success, please visit the Cooper CPA Group blog at https://www.coopercpagroup.com/blog/.
About Cooper CPA Group, PC
Cooper CPA Group serves the accounting needs of Houston and the surrounding areas. It provides services for growth companies and individuals, such as tax planning/compliance, assist with setting up a newly formed business, and succession planning; businesses, including small and mid-market business accounting, succession planning; tax services, such as tax preparation, tax planning and tax controversy; and Quickbooks services. For more information, please call (713) 243-8590, or visit http://www.coopercpagroup.com. Cooper CPA Group is located at 1703 W. 12th Street, Houston, TX 77008.
About the NALA™
The NALA offers small and medium-sized businesses effective ways to reach customers through new media. As a single-agency source, the NALA helps businesses flourish in their local community. The NALA's mission is to promote a business' relevant and newsworthy events and achievements, both online and through traditional media. The information and content in this article are not in conjunction with the views of the NALA. For media inquiries, please call 805.650.6121, ext. 361.