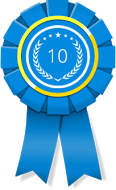 NEW YORK, N.Y. (PRWEB) May 29, 2018
10 Best Design recently announced its award-winning web design firms for May 2018. Each month, 10 Best Design recognizes excellence in the field of web design with its respected awards. Firms considered for one of these awards have demonstrated the highest standards across all areas of the web development field. From technical expertise to customer service, these web design agencies receive the highest reviews and ratings on a consistent basis.
Top firms for May 2018 include Ruckus Marketing, a leading web design firm in New York. This firm is a small agency that prides itself on giving clients personal attention. The talented staff at Ruckus Marketing includes graphic artists, content creators, and website coders with many years of combined experience. The firm is also skilled at helping clients establish their web presence on mobile platforms, and it even offers mobile app creation.
Blue Fountain Media in New York is another recipient of this month's award given to highlight the best web design firms in the industry. This firm has helped clients increase their web traffic up to 400%. Blue Fountain Media is more than just a design firm. The company works with clients to create strategies for effective brand building. The designs produced by this firm are meant to tell a story.
Rounding out the top three web design firms is SPINX Digital in Los Angeles. SPINX is a top web design firm that specializes in creating websites for e-commerce businesses. They are skilled in all aspects of setting up shopping carts, product pages, and attractive storefronts that turn visitors into buyers.
The Best Web Design Firm award is a new monthly honor that was created by 10 Best Design. Each month, firms from all over the world are evaluated based on a number of different criteria. The best of these are then ranked and listed on the 10 Best Design website. The creators of these awards believe that they serve a dual purpose. They honor web design firms for doing a superior job, but they also serve as a strong recommendation to potential clients.
For more information about the winners for May, please visit http://www.10bestdesign.com.