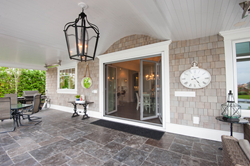 "We are honored to be partnered with Phantom Screens, a company that shares our visions and values on providing high quality products to our customers, at competitive prices..." - Neil Ginger, CEO at Origin
VANCOUVER, B.C. (PRWEB) May 27, 2018
Phantom Screens, the leading manufacturer of retractable screens in North America, announces a strategic partnership with Origin, the global leader of custom aluminum bi-fold doors.
This partnership will provide a seamless screening solution to Origins bi-fold doors, that would otherwise go unscreened due to their vast size. Now homeowners can experience the intended use of the folding door system, (bringing the outdoors in), without the concern of letting bugs into their home or compromising their view.
Both companies have developed a turnkey program that is beneficial to both builders and homeowners. The very nature of bi-folding doors, partnered with retractable screens, demands precision driven design and engineering. With this in mind, the program offers the simplicity of professional installation, one point of sale, and leading warranties for peace of mind.
"There is nothing like being able to leave your large doors wide open to enjoy the breeze without letting in the bugs," says C. Esther De Wolde. "The functionality of easy in and out access without compromising design of Origin's bi-fold door system is remarkable."
Phantom's retractable wall screens covers doorways and openings up to 24 feet wide and 10 feet high, and disappear out of sight when not in use. They feature a thumb latch integrated into the handle for controlled openings and mesh that is completely secured into track to prevent unwanted pests. The highlight of this retractable screen is its customizable stopping points for easy in and out access, allowing homeowners to personalize where they would like the screen to open and close.
When asked what excites him most about this partnership, Origin CEO, Neil Ginger has said, "we are honored to be partnered with Phantom Screens, a company that shares our visions and values on providing high quality products to our customers, at competitive prices and look forward to the future opportunities that await us."
***
North America's leading provider of retractable screens, Phantom Screens® offers insect protection, solar shading, temperature control and enhanced privacy for doorways, windows and large openings such as patios, verandas, and lanais. Phantom retractable screens are designed to pull into place when required and retract out-of-sight when not in use. Every Phantom screen is professionally installed and backed with a Limited Lifetime Warranty for added peace of mind.
About Origin
Origin is the global leading specialist and manufacturer of bespoke aluminum bi-folding doors, windows and blinds. Origin's products combine high grade aluminum with precision engineering to create functional and elegant products which are designed to last.
Media Contact:
Sierra Gordon
Marketing & Communications Manager
604-855-3654 Ext: 309
sgordon(at)phantomscreens.com
Connect with us:
Facebook: Facebook.com/retractablescreensolutions
Twitter: @phantom_screens
YouTube: YouTube.com/phantomscreens
Instagram: @phantom_screens