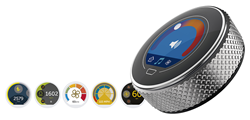 LAGRANGE, Ill. (PRWEB) May 29, 2018
Grayhill, Inc.'s new Touch Encoder combines the simplicity of a dial and the power of a touch screen. The Touch Encoder features a tablet-based development app that allows the designer to easily create an intuitive interface. Users can also customize the bezel and ring encoder to complement their company branding. Whether you are a maker creating a cool prototype, or an engineer designing a new dashboard, the Touch Encoder provides a high quality, intuitive user experience.
Key Touch Encoder advantages include:

No look operation
Supports multiple configuration options
Easier and less costly to support multiple languages
USB and CAN bus interfaces
Supports tap, swipe, and rotation gestures
Consolidates multiple component functionalities
Sealed construction
Impact resistance
For a first look at the stylish and robust new Touch Encoder, with its vivid high resolution screen, view the video. For additional information on the Touch Encoder, view the datasheet here.
About Grayhill
Grayhill, Inc. is a privately held firm which designs and manufacturers intuitive human interface solutions that make life simpler, safer and more efficient. Standard products include optical and hall effect encoders, discrete and hall effect joysticks, rotary switches, keypads, and pushbuttons; all with finely tuned haptics. Grayhill specializes in creating ergonomic panels and product shells that integrate various interface technologies, including displays, our components, and gesture recognizing multi-touch technology. With headquarters in La Grange, Illinois, and multiple state-of-the-art facilities around the world, Grayhill's team has the full engineering, product development and manufacturing expertise to deliver both standard and customized products quickly and cost-effectively. To learn more about Grayhill's products and capabilities, visit http://www.grayhill.com or email info(at)grayhill(dot)com.