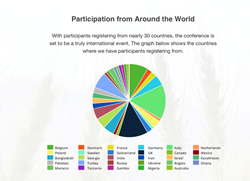 BIG SANDY, Mont. (PRWEB) May 29, 2018
Bob Quinn, PhD, founder of Kamut International and the founder of the 1st International Conference of Wheat Landraces for Healthy Food Systems to be held in Bologna, Italy on June 13-15, 2018, reported today almost 30 countries will be represented. "This is a landmark event in the furthering of knowledge for the future of our food supply," commented Quinn.
Wheat is the most widely grown crop in the world and provides twenty percent of the daily protein and food calories for 4.5 billion people. It's the second most important food crop in the developing world after rice. Traditionally, wheat-breeding programs have aimed to improve grain yield and protein content, as well as baking quality, but neglected nutritional and phytochemical characteristics. Little attention was paid to the potential impacts this would have on human health. "Today, we are learning more about ancient wheat varieties and the role they play in improving health and nutrition. It was the right time to gather together the leading minds on the topic to gain a global perspective on how we can work together to use science to advance human health," said Quinn.
As the chart shows, this symposium will bring together leading scientists to discuss the topics of landraces, including modern populations, ancient and heritage wheat with a focus on health and nutrition. The conference is organized by IFOAM - Organics International, Kamut International, ltd. and Kamut Enterprises of Europe bvba, and Alma Mater Studiorum – University of Bologna.
The three-day scientific symposium will include the following topics presented by researchers and expert scientists from research institutes, academia and industry, presenting their findings:
WHEAT

The History and Nature of Wheat: Landraces to Modern Wheat
The Problems of Modern Wheat concerning Health & Nutrition etc.
Solutions to the Problems of Modern Wheat
Using New Ideas or Goals in Breeding and Selection Programs to Solve Problems of Production, Processing, Health and Nutrition
Address Challenges of Climate Change
Breeding and/or Selecting Seed Based on Low Input Sustainable Organic Systems
Genetic Structure of Indicators of the Content and Quality of Protein and Other Nutritional Factors in Grain
Defining Terms: Ancient Wheat, Heritage Wheat, Modern Wheat, Landraces, Populations, etc.
PRODUCTION

The History and Nature of Wheat Production: Wild Wheat to Industrialized Agriculture
The Problems of Modern Production including Agronomic, Health and Environmental Considerations
Solutions to the Problems of Modern Wheat Production Using Regenerative Organic Agriculture to solve the Problems of Industrialized agriculture and address challenges of climate change: Opportunities and Challenges
Protein and other nutritional resources in the wheat gene pool
Structure of wheat protein yield and perspectives of its improvement
PROCESSING

The History and Nature of Wheat Processing
The Problems of Modern Wheat Processing on Health and Nutrition
Solutions to the Problems of Modern Wheat Processing
Using Traditional Processing Methods to solve the Problems Including Flavor and Aroma Considerations
NUTRITIONAL AND MEDICAL CONSIDERATIONS

The Historic Role of Wheat in Human Health & Nutrition
The Health and Nutritional Challenges of Modern Wheat for Growth, Development, Maintenance, Chronic Disease and Sports Medicine
Solutions to these Problems Possible with changes in Modern Systems of Plant Breeding and Selection, Production and Processing
Using Wheat Landraces to Solve Health & Nutritional Problems
Secondary metabolites from different wheat landraces as active nutrients
General characteristic of different landraces with regard to the protein content in grain and of essential amino acids in it
ECONOMIC AND MARKET PERSPECTIVE

Economic Problems with Modern Seed Breeding and Selection
Economic Problems with Modern Industrialized Wheat Production
Economic Problems with Modern Wheat Processing
Solutions to the above Problems
The Role of Marketing in introducing potential solutions to the public
OTHER GRAINS

Similar Topics with a focus on other cereal crops
"Our hope is to further scientific discovery so that we can feed the world with nutritious, healthful whole grains and nurture the planet at the same time," said Quinn. "The solution is there, but the mindset has to change. We cannot feed and nourish a growing population of 10 billion by mid-century with conventional monoculture farming and wheat that many people simply can't eat."
To attend as media or to interview Bob Quinn contact Giselle Chollett at Giselle(at)adinnyc(dot)com, 212 693 2152