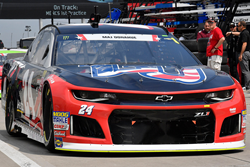 "I'm looking forward to it. It's always fun to race on my home track and I'm really excited about this weekend," Byron said.
CHARLOTTE, N.C. (PRWEB) May 25, 2018
William Byron's No. 24 Liberty University Chevrolet Camaro ZL1 will feature the names of two Liberty University alumni who served their country honorably when it lines up for Sunday's 6 p.m. NASCAR Cup Series race. The 600-mile event will be held at Byron's hometown track of Charlotte Motor Speedway.
Liberty is the primary sponsor of the No. 24 Chevrolet in the "600 Miles of Remembrance" race, the longest of the NASCAR season and the first event in the NASCAR Salutes program. The seventh annual commemoration honors U.S. military branches with special races over Memorial Day at Charlotte and Independence Day weekend at Daytona International Speedway. All 40 drivers in Sunday's field will have cars sporting patriotic paint schemes and carrying the names of service members who have given their lives in active military duty.
Byron, a sophomore pursuing a business communication degree through Liberty's online program, will honor former U.S. Army Maj. Mike Donahue, whose name is blazed across the windshield visor. Donahue, an Army Airborne Corps paratrooper, served three tours of duty in South Korea, Iraq, and Afghanistan, where he was killed at age 41 in a September 2014 Taliban suicide attack in Kabul. He had served as an assistant professor of military science for Liberty's Army ROTC program from August 2008 to July 2010, also earning his master's and doctoral degrees in education during that time. A Purple Heart recipient, Donahue won Bronze Star and Defense Meritorious Service medals. His wife, Sherri, and their children, Victoria, Seamus, and Bailey are planning to attend Sunday's race, along with approximately 6,000 active U.S. military personnel.
Byron will also honor retired Air Force Lt. Col. Charlie Davidson, whose name will be displayed above the driver's side window. Before becoming director of Liberty's Doctor of Ministry (D.Min) program, Davidson experienced a decorated 20-year career as a military chaplain. He was the first Air Force chaplain to serve in Baghdad and was awarded the Bronze Star Medal for bravery and valor under hostile fire and combat conditions during Operation Iraqi Freedom in November 2003. Davidson died following a battle with cancer at the age of 59 in April 2017. He had ties to NASCAR as a member of Bristol (Va.) Raceway Ministries' Board of Directors. He will be represented at Sunday's race by several family members.
Donahue and Davidson have both been honored with the university's George Rogers Champion of Freedom Award.
A prerace "Salute to the Troops" will feature demonstrations of military vehicles and weaponry from all five branches of the U.S. Armed Forces, including F-15 fighter jets, a Blackhawk helicopter, Humvees, Howitzers, a HIMARS rocket system, a Marine MTVR vehicle, and two Combat Rubber Raiding Crafts. Senior leaders representing all five branches of the military will address the crowd, and the Fort Bragg Firing Party will take part in a 21-Gun Salute.
Tickets for Sunday's race, available online, start at $49 for adults and $10 for youth 13 and under. Representatives from the Navy, Marine Corps, and Air Force will have interactive fan-friendly displays in the speedway's Fan Zone.
The 20-year-old Byron is currently the rookie points leader and ranks 19th overall in his first season in the NASCAR Cup Series. He posted the 11th-fastest speed in Thursday's afternoon practice session at Charlotte, averaging 188.285 miles per hour over 10 laps. On Thursday evening, Byron qualified 21st for the 600-mile event on Sunday.
"I'm looking forward to it. It's always fun to race on my home track and I'm really excited about this weekend," Byron said.
About Liberty University
Liberty University, founded in 1971, is the largest private, nonprofit university in the nation and the largest university in Virginia. Located near the Blue Ridge Mountains on more than 7,000 acres in Lynchburg, Va., Liberty offers more than 550 unique programs of study from the certificate to the doctoral level. More than 250 programs are offered online. Liberty's mission is to train Champions for Christ with the values, knowledge, and skills essential for impacting tomorrow's world.