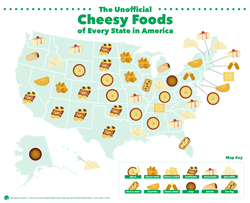 "We've got a fountain of cheesy data flowing from our customers' current order behavior" said Craig Key, Chief Marketing Officer at Bite Squad. "But we wanted to zoom out to see how cheesy dish preference changes from state to state."
MINNEAPOLIS (PRWEB) May 29, 2018
Americans love their cheesy foods! From the overall most popular pizza to mac-n-cheese to just plain cheese, a survey conducted by Bite Squad, the restaurant delivery service, reveals what cheesy foods Americans love most. The survey was conducted just in time for National Cheese Day, celebrated by cheese lovers across the country on June 4.
At the beginning of May, Bite Squad asked 2,500 Americans "What is your favorite food that contains cheese?" An overwhelming 41% of respondents answered pizza, while the second most popular answer was just plain cheese, at 13%. From there, macaroni and cheese, cheeseburgers, lasagna, grilled cheese and tacos rounded out the top seven.
"We've got a fountain of cheesy data flowing from our customers' current order behavior," said Craig Key, Chief Marketing Officer at Bite Squad. "But we wanted to zoom out to see how cheesy dish preference changes from state to state."
Using the survey data, Bite Squad took a closer look at what cheesy foods each state prefers most, after the top seven. Cheese dip is the big cheese, winning the hearts of Americans in 10 states. Enchiladas are a close second, with eight - mostly southwestern - states professing their love. Seven states have a sweet spot for cheesecake, matched by seven states that prefer a cheesy quesadilla. Most surprising? Florida likes a cheesesteak! And most predictable? Of course, cheese curds are well-loved in the midwest.
The company also analyzed internal data to determine the cheesy food dishes most ordered for delivery in 2018. Cheeseburgers top the list, followed by macaroni and cheese, cheese dip, cheese pizza, cheesecake, cream cheese wontons, cheesesteak, grilled cheese, cheese curds and quesadillas.
"We ranked our most delivered cheesy dishes in May compared to last year, and cheese dip is shredding it this year!" said Key. "I'm not sure if it's because of the dip-pics we posted on the blog or what, but from beer cheese dip to Mexican queso to cheese and artichoke combos, this cheesy favorite is a rising star, jumping from the number 10 spot to number three."
The data on cheese dip shows southern states may edge out the rest, Arkansas has more cheese dip orders than any other state. Tennessee holds second place for cheese dip delivery and South Carolina is in third place.
###
About the survey
Bite Squad commissioned Brandish Insights to survey U.S. online consumers through Google Surveys about their favorite food containing cheese. The survey was completed by 2,560 respondents. Survey responses were collected between May 11, 2018 and May 14, 2018.
About Bite Squad
Bite Squad is a leading independent provider of online and mobile food ordering and delivery services in the United States. Founded in 2012, in Minneapolis, Minnesota, Bite Squad partners with more than 10,000 restaurants across more than 40 metropolitan areas to deliver fresh food straight to the customer's door, quickly and hassle-free. To learn more about Bite Squad or to download the top-rated Bite Squad mobile apps, visit bitesquad.com.