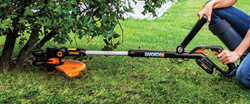 CHARLOTTE, N.C. (PRWEB) May 29, 2018
Save the slippers for the holidays and empower dad this Father's Day with the new WORX 20V GT Revolution Trimmer/Edger/Mini-Mower and 20V Turbine Blower combo. Dad will zip through yard chores in no time at all with the 20V, 4.0 Ah batteries that run twice as long as other 20V tools.
The GT Revolution Trimmer/Edger/Mini-mower is like getting three tools in one. It's the ideal trimmer for the yard, cutting along fences and keeping landscapes in check. A press of a button converts the trimmer into a precise wheeled edger for edging driveways, sidewalks, walkways and patios. Mount the wheels to the rear of the guard for mini-mowing jobs. The wheels sit three inches off the ground for optimum mowing. The mini-mower trims between bushes, beneath picnic tables, narrow strips of grass between homes, berms, ditches and other hard-to-reach areas. When the wheels are not in use, they are removable.
This trimmer is loaded with features. Customer feedback led to a longer shaft to accommodate taller homeowners. In fact, the trimmer is a foot longer than the original GT Trimmer, which debuted 12 years ago. The telescoping shaft makes adjustments easier to match the operator's height and posture for comfortable trimming. It has a 12 in. cutting swath and an adjustable metal spacer guard to help avoid cutting into flower beds, tree trunks, and lawn ornaments.
Replacement line is attached directly to the trimmer. A pre-wound cartridge spool and holder is attached to the trimmer's shaft for easy retrieval and to facilitate line replacement.
The GT trimmer also features Command Feed™. When using a grass trimmer, most line usage occurs during edging. WORX developed a line-feed method, called Command Feed that advances trimmer line instantly. No more bump feed or waiting for line to advance before cutting. With Command Feed, the user electronically controls when to feed more line. The shaft of the trimmer ratchets from 0 to 90°. This exclusive feature allows the user to trim in hard-to-reach areas such as beneath decks, shrubs and other obstructed areas. It is the only grass trimmer on the market with this feature.
Once the trimming is done, dad can chase grass clippings with the powerful WORX 20V Turbine Blower. The lightweight blower with turbine fan technology features an axial fan motor that pulls air directly into the fan and immediately forces it out through the large diameter, hyper-stream air nozzle. The 5.7-lb. blower has a two-speed control with air velocities from 60 to 90 mph combined with 225 and 340 cfm respectively. It's the combination of miles-per-hour and air volume (cfm) that makes the turbine blower so effective in moving debris.
This turbine blower all but eliminates the need for a push broom. By moving the nozzle side-to-side in a sweeping motion, it makes quick work of eliminating grass clipping from the driveway, sidewalk, walkways, patio or deck. The blower also is effective in clearing dirt and debris from entry ways into the house. Plus, it's a real time saver when clearing out dust and dirt from garages.
Once fall arrives, recruit the turbine blower for managing fallen leaves by herding them into piles for removal or to use as mulch.
Both the WORX trimmer and turbine blower are nicely balanced, easy to maneuver and control. The combo includes two, 20V, high-capacity 4.0 Ah batteries, three spools of line and a 5-hour charger. The batteries are compatible with other WORX lawn and garden and DIY tools as part of the company's Power Share program. Both tools are covered by the WORX three-year warranty.
The WORX 20V GT Revolution Trimmer/Edger/Mini-Mower and 20V Turbine Blower with 4.0 Ah batteries combo (WG954.1 $199.98) is available at http://www.worx.com
Visit https://www.youtube.com/watch?v=mI7ktCA6M74 to watch a video of the trimmer.
Reach out to WORX social media links like Facebook: https://www.facebook.com/worxus?ref=hl; Twitter: https://twitter.com/WORXTools; Pinterest: http://pinterest.com/worxtools and Instagram: @WORXTools
# # #