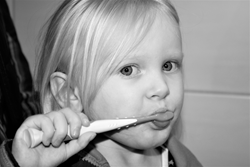 Tooth decay, at any age and in any nation, is highly preventable.
LOS ANGELES (PRWEB) May 31, 2018
A May 15 article on the Gibraltar Chronicle addresses the alarmingly large number of school children suffering from severe tooth decay in the UK. The article goes on to mention that although there have been measures to educate the public about the importance of dental care, more needs to be done to continue reducing number of tooth extractions needed in children with poor dental health in the US as well as other nations. Dr. Farzad Feiz of California Dental Care and Calabasas Dental Group says that tooth decay, at any age and in any nation, is highly preventable, especially with proper brushing and flossing techniques, as well as routine dental visits.
While children might often rebel at the idea of twice daily brushing and regular flossing, Dr. Feiz notes that the extra effort goes a long way. Brushing for two minutes twice a day reduces the buildup of plaque and harmful bacteria that often leads to tooth decay. In addition, reducing the consumption of sugary drinks and foods can drastically reduce the occurrence of tooth decay and keep teeth and gums at their healthiest. Moreover, regular dental exams and cleanings are also crucial. If dental professionals are able to spot issues such as cavities or bleeding gums at their earliest stages, they are then able to perform the necessary treatments before they become a major problem that may often lead to significant health issues down the road.
The Southern California based dentist goes on to note that outstanding dental health can also provide a number of lifestyle benefits that can make all the difference in a patient's life. Having clean and healthy teeth reduces the occurrence of bad breath, as well as staining, which can give individuals extra confidence. By taking the time to brush for the recommended two minutes every day and scheduling yearly cleanings,
individuals can enjoy outstanding overall health and keep their smiles at their brightest.
Readers in the Los Angeles are who are interested in learning more about dental health and taking preventative measures against tooth decay are welcome to contact California Dental Care at (310) 955-4008 or Calabasas Dental Group at (818) 660-0731. Readers can also learn more at http://www.FeizDental.com. Dr. Feiz notes that his friendly and skilled team of dental professionals is looking forward to hearing from members of the public.