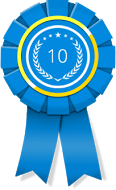 NEW YORK (PRWEB) May 30, 2018
10 Best Design is pleased to announce the winners of its Best eCommerce Web Design awards for May 2018, with Ruckus Marketing taking the top honor.
10 Best Design is a cutting-edge community of professionals who are passionate about providing individuals with information regarding how they can optimize their ecommerce presence. To facilitate this process, the team likes to share information about digital marketing organizations that offer exceptionally effective services. As such, the team is pleased to announce the launching of the new award for Best eCommerce Web Design Firm. Following is a summary of the companies that topped the list.
Ruckus Marketing is a community of results-oriented, detail-centered advertising geniuses who work with patience and persistence to help business owners grow their brands in the digital sector. As one of the best eCommerce web design firms in the industry, Ruckus Marketing places emphasis upon cultivating product pages that are mobile-friendly, engaging, and optimized for conversion. Additionally, the Ruckus Marketing professionals work with diligence and dedication to ensure that the client's website is aesthetically appealing.
Business owners who are ready to begin obtaining incredible results in the digital world should contact the professionals of Blue Fountain Media. In its role as a premium eCommerce web design firm, Blue Fountain Media is consistent in the use of both cutting-edge and conventional site optimization strategies that will increase the client's conversion rates. The professionals of Blue Fountain Media realize that there are now millions of business websites populating the internet, and this is why they work with precision and patience to develop conspicuously innovative websites that will catch and retain the prospect's attention.
Business owners who never settle for less than the best when it comes to digital marketing should turn to leading eCommerce web design firm Dotcomweavers. This team of tenacious, results-oriented techies work with remarkable speed and precision as they move through each stage of the web design process. Once the initial website is complete, the team continues optimizing every element to ensure that the client's brand stands out in the digital sphere. Whether the business owner is looking for strategies that will optimize functionality or wants to make the product pages more engaging, the techies of Dotcomweavers possess the skills, knowledge, and experience necessary to get the job done quickly and correctly.
For more information about the winning firms for May, please visit http://www.10bestdesign.com.