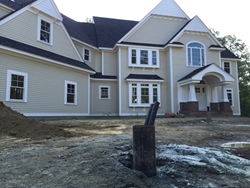 Many people are surprised at how simple the geothermal equipment is and how easy it is to operate and maintain.
Boxford, Massachusetts (PRWEB) May 26, 2018
EnergySmart Alternatives, LLC of Medford, Massachusetts is about to start another geothermal heating and cooling installation at the Sagamore Lane residential development in Boxford, Massachusetts.
All six homes visible from Sagamore Lane have geothermal systems as their sole source of heating and cooling. Melanie Head Co-Owner of EnergySmart said, "The developer (John Sanidas of Sagamore Realty Trust) opted out of running a gas line down the street due to excessive pricing by the gas utility. With that decision the traditional options for heating were oil, propane, or electric – none of which are particularly attractive to new homebuyers. Then, a 600-foot deep water well was drilled and no water was present. Rather than abandoning the hole, they opted to utilize it for geothermal." And so, the first geothermal system on Sagamore Lane was installed in 2012.
The geothermal pipes that exchange heat to and from the ground are hidden under the grass in the front or backyards. The pipes enter the home under the foundation and are connected to geothermal heat pumps located in the basement. Heat and air conditioning is distributed throughout the homes through traditional ductwork. The desired temperature is selected at the thermostat. "Many people are surprised at how simple the geothermal equipment is and how easy it is to operate and maintain. Geothermal doesn't need to be complicated," said Jayme Ciaramitaro, Co-Owner of EnergySmart.
Federal and State incentives further sweetened the deal. Geothermal systems installed in Massachusetts are sales tax exempt and can qualify for a rebate of up to $10,000 through the Massachusetts Clean Energy Center. "We are well versed in the state incentives and have stream lined the application process for our customers," said Ciaramitaro. "Homeowners are also eligible for a Federal Tax Credit worth 30% of the geothermal system installation cost."
Geothermal is an energy efficient alternative to traditional heating and cooling. With homes between 4,400 square feet and 5,200 square feet in size, costs for heating and cooling the homes at Sagamore Lane are between $1,800 and $2,600 per year. The geothermal systems also make hot water as a byproduct of their operation. No fossil fuels are burned for heating and there are no outdoor air conditioning condensers.
For more information about geothermal for homes in Massachusetts, visit http://www.EnergySmartAlternatives.com