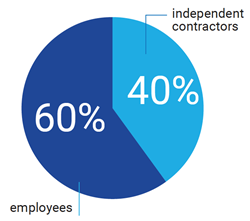 Researchers predict that by 2020, 40-percent of American workers will be classified as independent contractors.
CONCORD, Calif. (PRWEB) May 31, 2018
P.E. For Hire (PEforHire.com), a groundbreaking new site for professional engineers, connects individuals and companies that seek to hire short to long-term contract engineers for design, construction, development, or renovation projects. Furthermore, PEforHire.com allows licensed engineers to seek contract jobs that fit their specialty, according to Founder and President Francisco Loureiro.
"With most A/E/C firms, specialized engineers are in high demand," said Loureiro, a former media director for an engineering firm that specializes in water and wastewater management. "Our platform connects members to one of the largest resources of ready-when-you-are engineering talent. Hiring a contract engineer for a project reduces the time spent engaged in interviewing, salary negotiations and on-boarding."
PEforHire.com invites engineers to post their business profiles — including photos, cities of operation, contact information, license types and travel distance preferences. Thus, an architect, homeowner, builder, real estate developer, home inspector, etc., can explore local engineers in a desired specialty — civil, electrical, industrial, mechanical, structural — to find the right match for their job.
Once engineers post their profiles on PEforHire.com, they will receive notifications for projects that seek engineers with their particular skills, specialties and backgrounds. The profile information (license types, travel preferences, etc.) will determine which project announcements engineers receive in their inboxes. Profile postings are free. "Over 500 licensed engineers in many different disciplines have signed up on the platform so far," Loureiro said.
An online messaging system allows engineers and prospective clients to find out more about each other (including licensing and insurance), decide if they're a good match, and continue to communicate post-hire. "The platform allows members to manage their project and proposal documents from any device and communicate directly with engineers while remaining anonymous," Loureiro said. "This helps reduce some of the email clutter."
Individuals and companies can post requests for licensed professional engineers in the specialties that they need for any project. Posting a request is free. PEforHire.com makes it easy to upload detailed project descriptions, attach an image of the project, and specify the type of engineer sought, as well as include a deadline for submitting a proposal, and whether on-site work is required. Once the project is posted, the individual or company will receive notifications when engineers submit proposals. Projects are closed when either the proposal deadline is reached, an engineer is hired, or the project is manually closed. A simple click of a "Hire" button will confirm readiness to begin work with the chosen engineer.