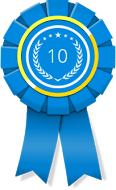 SAN FRANCISCO, Calif. (PRWEB) May 31, 2018
10 Best Design is excited to announce the award winners in its Best Drupal Web Design Firm category for May 2018, naming Blue Fountain Media as the top honoree.
10 Best Design is a top-notch business that places primacy on providing company leaders with ecommerce information that will help them excel in the digital advertising sector. The company is proud to present the winner of its new monthly award for the Best Drupal Web Design Firm. Following is a synopsis of the companies that topped the list.
Blue Fountain Media, the best Drupal web design company, has professionals who are known for offering exceptional services. The techies of the organization place a priority on maintaining an open-minded yet strategic approach to the web design process. This attitude empowers them to get things done quickly and correctly while simultaneously ensuring that the business owner's website is unequivocally innovative, engaging, and interesting.
Additionally, the Blue Fountain Media techies work with relentless precision and patience to perfect the aesthetic element of the client's site. This means that anything from the template to the background to the color schema may be subjected to ongoing scrutiny for the purpose of ensuring that visitors are immediately impressed with the site aesthetic. The team knows how to catch and keep the audience's attention with innovative or otherwise visually-appealing designs, and this is part of the reason that they are so successful in helping brand owners build their companies via internet.
When business owners start looking for the ideal web design and development company, they should set their sights on the professionals of EIGHT25MEDIA. As one of the leading Drupal web design firms, EIGHT25MEDIA has a top-notch team of graphic design experts, meaning that they excel in making the aesthetic elements of the client's website absolutely incredible. Additionally, the EIGHT25MEDIA professionals work with dedication and determination to ensure that the client's site is mobile friendly and functional.
SpinxDigital is a top Drupal web design firm with representatives who work with passion and patience to cultivate incredibly accessible, aesthetically-appealing websites that will keep prospects interested in the business owner's brand. To make the client's website as exceptional as possible, the techies of SpinxDigital focus on creating product pages that are functional, engaging, and mobile-friendly. The team also implements customized, cutting-edge conversion optimization strategies that will make the client's site a sale-generating masterpiece. For exceptional site optimization services from people who put the client's brand success first, companies should consider SpinxDigital.
For more information about the winning firms for May, please visit http://www.10bestdesign.com.