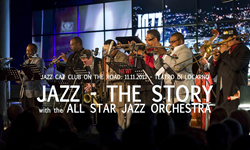 This is an All-star band to rival any other one, anywhere.... Allen Young - New York Music Daily
SAN FRANCISCO (PRWEB) June 12, 2018
Leading a 10 piece Big Band and featuring the Bay Area's own Nicolas Bearde's vocals and narration, Vincent Herring's thorough survey of recorded jazz music's century-plus history from 1917 to the present includes everything from ragtime, swing and bebop to Afro-Cuban, free and fusion styles. Works from greats such as Duke Ellington, Charlie Parker and Miles Davis are revisited and interpreted by his ten-piece ensemble which includes trumpeters Brian Lynch and Oakland native, the legendary Jon Faddis, saxophonists James Carter and Eric Alexander, trombonist Steve Turre, pianist Mike LeDonne, bassist Kenny Davis and drummer Carl Allen.
A unique bond ensued by happenstance when Bearde met Herring on an airplane in Munich, Germany on the way to Minsk, Belarus in 2013 where they performed at the Minsk Jazz festival. When it came time for Nicolas to record his 5th album, he had the pleasure of featuring Herring on his 2016 album "Invitation", along with legendary pianist Nat Adderley Jr and bassist Kenny Davis. "Invitation" rose to #16 on the Jazz Week Charts and garnered great reviews at home and abroad.
When Herring recorded his latest album "Hard Times" in late 2017 on the Smoke Sessions label, the favor was returned, and Nicolas was featured on 3 tracks that are still garnering worldwide radio play today.
The "Story of Jazz Orchestra" which traces the mosaic of Jazz music, a uniquely American art form, solidified at Birdland in New York City in January of 2017, and...this all-star cast of musicians has been travelling the world ever since presenting this musical history. Be sure to catch them on the Sobrato Main Stage at the San Jose Jazz Summer Fest on August 12, 2018 at 2pm.
Tickets and Info - https://summerfest.sanjosejazz.org/artists/vincent-herrings-story-jazz-100-years