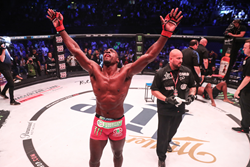 Whoever steps in this cage has to deal with me. If that don't scare you, if that don't give you the heebie-jeebies, if that don't keep you up at night – I don't know what will - Phil Davis
WEMBLEY, LONDON, England (PRWEB) May 27, 2018
Monster Energy congratulates Phil Davis on his emphatic victory over Linton Vassell on Friday night at Bellator 200 at the SSE Arena, Wembley London, UK. The light heavyweight bout aired on Paramount via tape-delay from The SSE Arena in London.
Davis (19-4 MMA, 6-1 BMMA) is yet another step closer to earning a shot at challenging for his previous Bellator light heavyweight title after defeating Linton Vassell (18-7 MMA, 7-4 BMMA) just 65 seconds into the third round by putting Vassell down with a thunderous head kick KO.
The first round started with Davis controlling the pace of the action, using his range, counter striking, and takedown attempts to slow the forward attack of Vassell, even adding a couple knee strikes late in the round for good measure.
In the second Vassell tried to pick up the pace and become more offensive, leaving himself open for Davis' counter shots and the former Penn State wrestler's pedigreed takedowns. A quick reversal gave Vassell a glimmer of hope as he briefly took Davis' back, but he failed to hold the position and his momentum as Davis ended the stanza back on his feet and in control of another round.
Davis came out all offense for round three, and was clearly looking to make a statement. After a flurry of sharp and well-placed punches, he ended the night early with a stunning head kick KO, dropping Vassell to the canvas at just 1:05 into the round.
As for Davis' future opponents chances as he surges toward a redemption match to battle for the Light Heavyweight title he lost at Bellator 180 last year Davis said, "Whoever steps in this cage has to deal with me. If that don't scare you, if that don't give you the heebie-jeebies, if that don't keep you up at night – I don't know what will."
Monster Energy's Roy "Big Country" Nelson was set to serve as the Heavyweight headliner of Bellator 200, but it was announced earlier in the week that his opponent Mirko Cro Cop would be forced to withdraw after Cro Cop injured his knee. Be on the lookout for a Nelson heavyweight fight in the near future.
Download photos for editorial use.
Davis is amongst Monster Energy's elite MMA athletes along with Conor "The Notorious" McGregor, Chris "The All American" Weidman, Donald "Cowboy" Cerrone, Paige VanZant, Dominick "Dominator" Cruz, Tyron "The Chosen One" Woodley, Daniel Cormier, Jessica-Rose Clark, Quinton "Rampage" Jackson, Rory MacDonald, Phil Davis, James Gallagher, and Roy "Big Country" Nelson.
For more on Monster Energy's MMA team visit http://www.monsterenergy.com.
###
About Monster Energy
Based in Corona, California, Monster Energy is the leading marketer and distributor of energy drinks and alternative beverages. Refusing to acknowledge the traditional, Monster Energy supports the scene and sport. Whether motocross, off-road, NASCAR, MMA, BMX, surf, snowboard, ski, skateboard, or the rock and roll lifestyle, Monster Energy is a brand that believes in authenticity and the core of what its sports, athletes and musicians represent. More than a drink, it's the way of life lived by athletes, sports, bands, believers and fans. See more about Monster Energy including all of its drinks at http://www.monsterenergy.com.