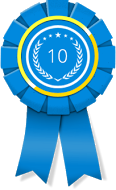 SAN FRANCISCO (PRWEB) May 29, 2018
Monthly awards organization 10 Best Design has released its May 2018 list of 10 honorees for Best SF Website Development Company. This new monthly award features outfits that currently dominate San Francisco's highly competitive web design landscape.
Anyone who visits the website of leading web design agency Arhue can easily see the company's web design excellence. Arhue's engaging website uses written content wisely and displays engaging animation. Located on San Francisco's Sansome Street, Arhue offers web design and development, video and interactive services, marketing, public relations, strategy consulting, branding and other professional services one would expect from a digital agency. Additionally, Google, Coors, Adidas and other international brands have employed Arhue's excellent services. Arhue currently accepts new clients, and a brand need not be international to reach out to the agency.
A winner of many web design awards, EIGHT25MEDIA serves brands based in Silicon Valley and far from the Bay Area. At its offices on Fremont Boulevard in San Francisco, this agency has built more than 500 results-providing websites. Visitors can access case studies on EIGHT25MEDIA's homepage that prove the value its services deliver for clients, which is why it ranks as one of the best SF website development companies. Those clients include Wine Warehouse, Machine Zone and an array of other eCommerce brands. EIGHT25MEDIA's core capacities include web design and development, mobile app development, web app development and digital marketing. Currently, EIGHT25MEDIA welcomes new clients from across the industry spectrum.
Mission Street is the home of KNI, which is well known for providing top-shelf services. As a leading web design firm, KNI expertly tailors its work to each client's needs. KNI's client list features Capital One, Audi and KFC, but a brand need not be huge to obtain this agency's services. It has also created output for startups, some of which have garnered devoted clientele, like the Nest thermostat. This adept provider even built the online presence for The Harrison, a five-star real estate venture in San Francisco.
10 Best Design has been a leading evaluator of web design agencies since 2012. In the coming months, it will release additional Best Web Design Firm awards. In the meantime, for more information about the winning firms for May, please visit http://www.10bestdesign.com.