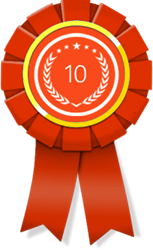 CHICAGO (PRWEB) May 29, 2018
Awards organization 10 Best SEO has released the names of the latest winners of its monthly award for Best SEO Agency. For May 2018, Straight North of Chicago, Ill. was chosen as the top honoree in this category.
10 Best SEO's new monthly award recognizes 22 online marketers that empower businesses and help them build an online presence. By making the list, these agencies marketers have shown they know what they are adept and experienced. Every company on the list provides a valuable service to today's businesses. The top three award recipients for the month lead their industry in performance and innovation.
Here is a summary of these SEO agencies in no particular order:

Straight North (Chicago, Illinois): To date, Straight North has verified over 750,000 leads generated for clients, which is why it ranked at the top of this month's list of best SEO agencies. Search engine optimization and online marketing come naturally to the team at this firm. Straight North is one of the top SEO company options in the country right now. By focusing on lead generation and making money, the firm helps clients succeed in countless ways. Every new lead makes a potential sale possible, and businesses depend on revenue in order to keep the doors open and the balance sheet positive.
Ignite Visibility (San Diego, California): The minds at Ignite Visibility want to bring clients more traffic, more conversions, and more revenue. Fortunately, Ignite Visibility provides all manner of SEO services, ranging from local to global search engine optimization. Whatever a client needs from the firm, the client can expect to receive that and then some. As a top SEO agency, Ignite Visibility understands SEO principles and how best to implement them for a given client. A client's business size or industry does not matter; the positive results will keep coming in regardless.
Boostability (Lehi, Utah): Leading SEO company Boostability has provided businesses with search engine optimization services for almost a decade. At this firm, client satisfaction comes first, and each client is given the tools necessary to succeed. Experts with Boostability can take a client's current web performance and boost it by a wide margin. Clients will see their websites and links draw in more traffic and leads than ever before. Plus, Boostability charges competitive rates while providing excellent services to each and every client.
Finding the best SEO agency for a given client requires time and effort. In the end, 10 Best SEO sifts through hundreds of SEO agencies to determine the best options. Its new monthly award helps simplify this process for businesses seeking out such services.
For more information about the award-winning companies for May, please visit http://www.10bestseo.com.