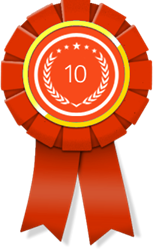 CHICAGO (PRWEB) May 30, 2018
10 Best SEO recently announced a new award for May 2018 for the best social media marketing agency: Best Social Media Marketing Agency. Subsequently, the organization has named Straight North as the leader in this category.
By issuing the award, the highly respected organization has taken the guesswork out of finding an agency that provides quality SMM services. The award is important because not all companies understand the ins and outs of social media marketing, and hundreds of marketing firms offer such services to clients. However, when businesses choose one of this month's award-winning firms, they can feel confident they will receive incredible results.
Following is a brief description of the award recipients for May 2018.
Social media marketing comes naturally to the experts at Straight North, a top social media marketing agency that is highly respected in the industry. The Chicago, Ill-based company is filled with SEO and SMM experts with decades of cumulative experience. When clients come to Straight North, a dedicated team assess each company's situation. Depending on the initial assessment, Straight North can rebuild or renew a client's social media strategy. Proper marketing through social media requires specialized knowledge, and the wonderful team at Straight North is one of the top social media marketing agency options today.
Industry-leading experts work for Ignite Visibility and understand how social media marketing leads to success. The San Diego, Calif. company focuses on producing more views and more leads for each client, which is what differentiates it as one of the industry's best social media marketing agencies. By improving a client's SMM strategy, Ignite Visibility can help clients see better results from every social media platform. Facebook, Twitter, and even Instagram can be utilized to increase conversions and brand awareness for clients. This particular firm has helped hundreds of clients see results from social media platforms.
At Boostability, every social media marketing campaign is tailored to a client's specific industry. Being a leading social media marketing agency, Boostability customizes marketing campaigns for each client to ensure the best results. No dollar or man-hour is wasted on unnecessary or generic strategies. By hiring Boostability, clients ensure they can see the results from a successful campaign.
Boostability is an industry leader and trusted by hundreds of companies for assistance.
10 Best SEO will continue to identify the best social media marketers in the country each month. New awards will be announced within the next few weeks. Until then, businesses in need of SMM services can trust these companies and others to produce excellent results. Social media marketing is not easy, and finding the right company to handle this work is even more difficult.
To learn more about this month's award-winning social media marketing companies, visit http://www.10bestseo.com.