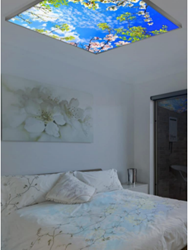 Bring the skies inside
NEW YORK (PRWEB) May 31, 2018
Simar Design introduces modern and decorative LED ceiling lights. Imitating skies, these innovative lights embellish homes and offices and bring relaxation to people.
http://lightdecoceiling.com/
Simar Design, a start up, announced today the launch of its new decorative LED ceiling lights. Innovative and modern, they enhance the beauty of homes and offices, bring relaxation to residents as well as create a strong impression on visitors. Providing true illumination, these lights fuse usefulness with aesthetics.
Available in different sizes and images, these remarkable LED lights imitate skies and bring nature to the interiors. Their design and luminous panels emulate the daylight in a better way. The lights can be placed in living room, kitchen, dining room, bedroom, entrance, hall, garage, salon or any other place in a home or office.
Captured by creative and highly professional photographers, the images of skies put up on these LED lights captivate people's attention, bring them visual comfort and provide them a real virtual experience.
Lightdecoceiling still needs to build up a stock of products, and for this they need support, that's why they started a fundraising campaign : https://www.indiegogo.com/projects/lights-imitation-sky-design/x/18750293#/
Benefits:
These decorative LED ceiling lights offer many benefits to users. They have a long lifetime and can last up to 20 years with daily use of 7 hours. As the lights employ LED technology, people need not change any bulbs. They need not perform maintenance on them. The frames used in the lights are 5 cm thick and do not cause any problems or imperfections.
The fabric employed for printing images in these LED lights is robust and highly resistant. It is non-inflammable with UV or sublimation printing. It can be easily cleaned and transported. The fabric can be installed on the frame in 2 minutes, which is a time saver.
The frames used in these decorative LED lights are made of aluminium and need to be attached with screws. They are light in weight yet highly resistant. The frames can be painted in various colors. Though available in standard dimensions, frames can also be built in custom dimensions. While the installation time for smaller frames is 30 minutes, bigger frames can be installed in an hour.
By providing excellent illumination, embellishing the beauty of homes and offices and by promoting users' wellbeing, these innovative and modern decorative LED lights provide best value to them. Also, they have set a new benchmark in the LED light manufacturing industry.
About Us: Simar Design is an established France based manufacturer of modern and innovative decorative LED lights for homes and offices. Its lights employ LED technology. They imitate skies and provide excellent illumination and enhance their beauty of houses and commercial buildings. These lights bring relaxation to house and office owners and cause a great impression on their visitors. They also provide various benefits to users in terms of long life, no maintenance, etc.
Here's our facebook page :
https://www.facebook.com/simardesign/
Contact:
Email: lid.sensor(at)gmail.com