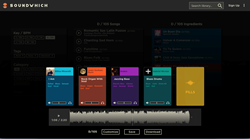 SAN FRANCISCO (PRWEB) May 29, 2018
Soundwhich.com, the custom royalty-free music website developed by Varidada Inc. with over 220 billion unique songs, introduced a new featured subscription this month to further expand on their users' abilities to create unique and accessible soundtracks.
The music licensing subscription strengthens the business model for Soundwhich.com and accelerates the growth of user-generated videos and podcasts on the internet as an more affordable alternative to traditional music licensing fees.
The newly added "Online Creator Package," priced at $21.99 for one month or $199.99 for 12 months, allows users to create and download up to 50 songs per day, access the full library without watermarks, and permits creators to use the music in online videos and podcasts with up to 200,000 plays.
Soundwhich.com works to streamline the music creating process. Users don't need knowledge of music theories to meet hit song quality with the simplicity of the drag n' drop feature. The platform caters to creative individuals with high level ideas for instrument, genre, and mood. Imagine starting with jazz piano, followed by some upright bass and jazz sticks or turning the track into a story with the addition of a female Latin vocal track.
Besides assembling the ingredients, one has the ability to edit the dynamics of the mixed song by toggling on and off sections to synchronize with changing emotion of YouTube video background music. For example, a calm piano might better suit a relaxing scene, while a percussion would fit seamlessly into the chase scene that follows.
The music licensing subscription makes growing the stock music library easier and more efficient for creating content like soundtracks for YouTube, music video production, and more.
Since 2016, San Francisco-based Varidada, Inc. startup has transformed how people create, listen, and consume music on the Internet. The company has developed advanced machine learning and audio processing algorithms to lower the barriers of music collaboration and make mass production of unique music pieces possible.