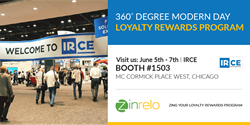 "IRCE is a great opportunity for us to showcase how the simple implementation process, ease of use, and effectiveness of our loyalty rewards program empowers businesses to take their company to the next level"- Jai Rawat, CEO at Zinrelo
SUNNYVALE, Calif. (PRWEB) May 29, 2018
Zinrelo is participating as an exhibitor in retail industry's leading e-Commerce conference IRCE for the fifth consecutive year. The conference will take place from June 5-7, 2018 at McCormick Place West in Chicago, IL. Along with other team members, the Zinrelo executive team, Jai Rawat – CEO and Samir Palnitkar – VP, Customer Success will be in personally present at booth #1503 to demonstrate the effectiveness of Zinrelo's modern-day loyalty rewards program.
Zinrelo has partnered with hundreds of businesses to help them foster a deeper relationship with its customers by maximizing customer engagement and retention. Moreover, the enterprise-grade loyalty rewards program from Zinrelo has helped eCommerce merchants convert one time shoppers into loyal brand ambassadors through 360-degree customer interaction.
Considering how modern-day customers shop and interact with brands, Zinrelo's loyalty rewards program allows businesses to reward customers not only for purchases but for multiple interactions on the website such as referrals, account creation, email signups, photo sharing, reviews, social advocacy, and much more. On an average; the loyalty rewards program generates 2.4x more per-customer revenue, and an 80% increase in repeat sales frequency.
Zinrelo's Loyalty Rewards Program is packed with innovative and unique features to help businesses create fiercely loyalty customers. Some of the key features are;

360-Degree Engagement module: This feature allows businesses to reward its customers in multiple ways by adding custom activities for rewards.
Unmatched User Experience: The self-service platform offers a fully customizable End-User Dashboard and Admin Console for enhanced flexibility.
Powerful Business Rules engine: This unique feature can help businesses build sophisticated reward scenarios that can maximize user engagement. Examples are:
- 10X points for Category = SHOES
- 5X points for Category=SWIMWEAR
- Double the referral reward points if the referred purchase order value is greater than $300
- Birthday bonus: 200 points for Gold Tier, 300 points for Platinum Tier.
Omni-Channel support: The loyalty rewards program can be deployed seamlessly across desktop web, mobile web, mobile apps and in-store environments.
Powerful API access: Zinrelo loyalty rewards program has been developed using an API-first approach. It is the only loyalty rewards program in the world that can be seamlessly embedded within your business processes completely via API and Webhooks.
Pay-As-You-Go pricing: Zinrelo offers a pay-as-you-grow plan that enables you to build a customized loyalty program to achieve your business objectives. In addition, Zinrelo caters to businesses both large and small, start-ups and enterprises.
"Once again, we're thrilled to be a part of the IRCE. We are all excited to unravel the innovative features and success stories of our loyalty program at IRCE 2018," commented Jai Rawat, CEO at Zinrelo. "It is a great opportunity for us to showcase how the simple implementation process, ease of use, and effectiveness of our loyalty rewards program empowers businesses to take their company to the next level."
Zinrelo is excited to meet and interact with retailers and attendees at IRCE 2018. Attendees can visit the Zinrelo website to register for a one-on-one meeting with the executive team at IRCE 2018 to learn more about the company's innovative solutions.
About IRCE:
Internet Retailer Conference & Exhibition (IRCE) provides a conference full of industry experts, an exhibition hall filled with the latest and greatest solution providers, and a community made for networking with thousands of like-minded industry peers. E-Commerce is evolving faster than ever and it's essential for companies that want to stay ahead to have access to the right solutions. IRCE 2018 will take place in the world-class city of Chicago, June 5-7, at McCormick Place West. For further details, visit http://www.irce.com.
About Zinrelo:
Zinrelo brings you the world's best loyalty rewards and referral programs, helping to maximize revenue per customer and new customer acquisition through 360-degree customer engagement. It supports omni-channel interactions including desktop web, mobile web, mobile apps and in-store engagements.
Zinrelo loyalty rewards program boosts per-customer revenue by 2.4 times and repeat purchases by 80%. It creates fiercely loyal customers that are rewarded for all forms of engagements including purchases, social advocacy, reviews, signups, referrals, photo sharing and more. It is fully customizable and is easy to deploy. Zinrelo referral program delivers a 25% uplift in new customer acquisition by converting your customers into brand ambassadors.
To zing your loyalty and referral programs, contact Zinrelo at http://www.zinrelo.com or info(at)zinrelo(dot)com