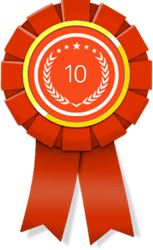 CHICAGO (PRWEB) May 31, 2018
10 Best SEO just announced its newest monthly award to recognize the best agencies in the area of enterprise search engine optimization. The top recipient of the Best Enterprise SEO Agency award for May is Straight North.
With this latest announcement, 10 Best SEO has taken the guesswork out of finding a reliable and experienced firm to handle this type of work. Enterprise search engine optimization is a highly specialized service, and only a few dozen companies across the country provide reliable enterprise SEO services. Large corporations can take note of the award winners for May as potential providers to meet their SEO needs.
Some of the largest corporations in the world have worked with Straight North, the best enterprise SEO firm for May. The company is well-deserving of a Top Enterprise SEO Agency recognition. Generating more leads for a gigantic corporation is no simple task. Then again, Straight North harnesses the power of its collective workforce in order to optimize websites for the largest companies in the world. Other enterprise SEO firms may not be able to help the biggest companies, but that's not an issue for Straight North.
Boostability knows the ins and outs of every major industry, making it an ideal contender on this month's list of top enterprise SEO agencies. This particular SEO firm works with major corporations to improve their SEO results. Enterprise SEO requires large-scale changes to SEO tactics, and Boostability implements these changes without skipping a beat. Therefore, clients will see immediate SEO-related results without major downtime or other issues associated with multifaceted changes.
At top enterprise SEO firm Ignite Visibility, quality service and proven results are the keys to success. By refusing to turn down large corporations, Ignite Visibility has gained the experience necessary to aid all companies. The firm's clients include Fortune 500 companies and companies with thousands of employees. Enterprise SEO is both an art and a science, which Ignite Visibility understands completely. Proven strategies and a commitment to results propel Ignite Visibility and its clients forward to better days.
All of these enterprise SEO firms provide invaluable services to their clients. Corporations of all sizes would benefit from working with these companies and others found in 10 Best SEO's awards listings. For the best results, companies need to work with proven enterprise SEO firms. No corporation should settle for anything less than the best options at their disposal. Only then can they expect excellent results.
For more details about this month's award-winning agencies, please visit http://www.10bestseo.com.