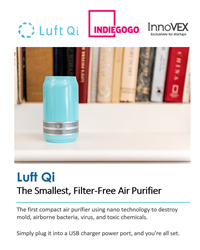 "Showcasing Luft Qi at Computex's InnoVEX will put this amazing product in front of a global audience, and we're excited to indulge our guests in this remarkable technology."
TAOYUAN, Taiwan (PRWEB) May 30, 2018
Titus&Wayne recently launched a highly successful Indiegogo campaign for its latest product, the innovative filterless, world's smallest air purifier known as Luft Qi. So far, the campaign has attracted over 1545 backers and raised $ 215,692, 863% of the campaign's initial $25,000 goal.
Now, Titus&Wayne has announced that the Luft Qi will debut on a global stage at InnoVEX. InnoVEX is a special exhibit area within Computex Taipei designed just for startups, offering valuable opportunities for networking with global buyers, investors, and manufacturers. Luft Qi will be on display in TWTC Hall 3 at booth G0434 during the event, which is slated for June 6 - 8, 2018.
According to Titus&Wayne CEO and co-founder Titus Chang, "Showcasing Luft Qi at Computex's InnoVEX will put this amazing product in front of a global audience, and we're excited to indulge our guests in this remarkable technology."
Using nanotechnology, Luft Qi eliminates airborne bacteria, viruses, and chemicals from the air without the use of filters. This offers a sustainable air purifier that's both powerful and eco-friendly.
"We've already proven there's a huge market for this product with our IndieGoGo campaign," said CTO and co-founder Wayne Chein.
Luft Qi has even been included in the IndieGoGo Team Favorites Collection, showing that backers aren't the only ones who see the remarkable potential of the product. Luft Qi is already in product, and IndieGoGo funders are receiving exclusive perks, including early bird pricing and custom engraving.
The campaign is set to end on June 11, 2018.
More information about the event can be found at the Computex Taipei website. More information about Luft Qi is available now at the Luft Qi IndieGoGo page.
Product images and media kit download: https://goo.gl/wGqPXN
About Titus&Wayne
The team at Titus&Wayne offers a wealth of expertise in the area of LED, semiconductors, and more with a mission to deliver remarkable products that help customers enjoy better lifestyles.
Follow us:
Facebook: [https://www.facebook.com/luft.purifier
Twitter:http:// [ https://twitter.com/HelloLuft
Instagram: [https://www.instagram.com/luftqi
YouTube: https://goo.gl/zyXAVz
Media Contact
Rita Kuo
iDée Creatives Marketing Consulting Inc. on behalf of Titus&Wayne
ritakuo (at) ideecreatives (dot) com