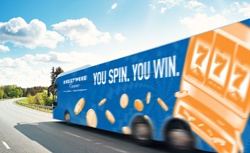 The application has been exactly what we needed. It's intuitive, stable, and makes the lives of our team members so much easier.
SAN DIEGO (PRWEB) May 29, 2018
Jamul Casino selected the Group Manager™ application to expand their client services footprint and become the leader in providing guest's an experience to remember. To date, the product has allowed their players club to more efficiently manage patrons who visit the property, via one of their many bus routes in Southern California. With the installation of the platform, the guest service staff has the ability to greet every guest as they exit the bus, quickly process any incentives for arriving and enroll or reprint players cards for patrons, all within minutes. The application bypasses the need for players to wait in line at the Players Club and instead, gets them onto the casino floor as soon as they step off the bus, ready to play their favorites game. The application has been instrumental in providing Jamul Casino with a tool to provide exceptional customer service and become a clear leader in the gaming sector.
"From the very beginning, our focus has been about creating a great experience for all guests who visit our property, and Playersoft really helps us hit that target," said Scott Bauer, Jamul Casino's Vice President of Marketing. "During our system deployment, the Playersoft team was highly professional and very knowledgeable about the product, and the application has been exactly what we needed. It's intuitive, stable, and makes the lives of our team members so much easier. The Group Manager app allows our guests to claim their offers, skip the Player Services line, and go straight to the casino floor – all enhancements that give more time back to our guests to enjoy their visit with us," he added.
The Playersoft Group Manager™ is an Apple IOS app that runs on an iPod Touch. The app makes processing and tracking groups very easy. It automates every aspect of group management, from check-in to reporting. Group Manager™ eliminates lines with the quickest check-in of any group program available. It provides a complete check-in with offer issuance, card reprint and new account creation, all from the mobile device in real-time. The app is capable of tracking all costs associated with groups, including multi-commission, offer redemption transactions and usage tracking. Additionally, the application allows casino managers to instantly analyze group play performance to determine if groups are profitable or not, providing insight on future charter investments.
"We are truly excited to have this opportunity to work with Jamul Casino. We consider ourselves lucky to have them as a customer and we're looking forward to continuing our strong partnership with them into the future," said Tony de Leon, President of Playersoft.
About Jamul Indian Village Development Corporation (JIVDC)
Jamul Indian Village Development Corporation (JIVDC) is a wholly owned entity of Jamul Indian Village (JIV). The company is based in Jamul, California, and operates Jamul Casino in San Diego. The casino features slot machines, live table games, multiple restaurants, bars and lounges.
About Jamul Indian Village (JIV)
Jamul Indian Village (JIV) is one of 13 federally recognized tribes that are part of the Kumeyaay Nation, with roots in east San Diego County going back 12,000 years. JIV's casino on its reservation in Jamul supports more than 1,000 permanent jobs in the region. The Tribe uses revenue and resources from the casino to fund educational opportunities, healthcare, and housing initiatives for its members, and projects that benefit the surrounding community, through a tribal-state gaming compact with the state of California signed in 2016. For more information about JIV, please visit jamulindianvillage.com.
About Playersoft
Playersoft Technologies focuses on creating systems to streamline all aspects of the fast-moving casino industry. Playersoft Technologies was established with a mission to help casino operators improve the players gaming experience, increase player retention and improve profitability.
Playersoft Communications Contact:
Jatonia Ziegler – 702-683-4766 – csmarketing(at)playersoft.com