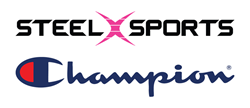 Steel Sports is high class from top to bottom, and we look forward to helping their athletes, families and fans look their best on and off the field.
HERMOSA BEACH, Calif. (PRWEB) May 29, 2018
Steel Sports has selected Champion as the Official Apparel Partner for the 35,000 youth players, families and coaches who participate in its baseball programs.
Central to the partnership, Champion becomes the preferred outfitter of the National Youth Baseball Championships (NYBC), Baseball Heaven and Team Steel. The NYBC is an annual travel event series that includes 18 regional qualifiers and a championship tournament televised on CBS Sports and MLB.com. Baseball Heaven is a seven-field, all-turf facility on Long Island, New York that offers tournaments, camps, showcases and individual training. Team Steel is a baseball club program consisting of 50+ teams focused on delivering premier on- and off-field experiences.
"Partnerships are an integral part of who we are. It is extremely exciting for us to be partnering with such a quality organization like Steel Sports," said GM of Champion powered by GTM Sportswear Tyler Lewison. "They are going places in the youth sports space, and for us to join with them in creating a powerful brand partnership is something to be talked about. Steel Sports is high class from top to bottom, and we look forward to helping their athletes, families and fans look their best on and off the field."
"Champion is an iconic, high-quality apparel brand with a strong foothold in the youth sports market," says David Shapiro, CEO of Steel Sports. "Furthermore, Champion's commitment to developing socially and physically fit children across all demographics greatly impressed us."
In keeping with its mission of stressing accessibility and positivity in youth sports, Steel Sports will create a Champion Grant Program for 10 teams and / or leagues to receive Champion apparel. Steel Sports is widely respected for helping children reach their potential by emphasizing fun, learning environments while instilling core values of safety, teamwork, respect, integrity and discipline.
About Steel Sports
Headquartered in Hermosa Beach, CA, Steel Sports invests in and manages youth sports-related businesses which promote best practices in holistically developing character and teaching life lessons through sports. Focus is on dynamic, participatory experiences locally and nationally with benefits including teamwork, sportsmanship, parent-child interaction and physical, social and emotional health. According to PHIT America, 67% of children are not active to healthy levels, 47% of all high school students have no physical education and 28% of Americans (including tens of millions of parents) are sedentary. In addition to its baseball portfolio, Steel Sports' family of companies includes U.K. Elite Soccer, home to more than 60,000 players and 300 coaches all guided by the Steel Sports Coaching System.
More information: http://www.steel-sports.com, info(at)steel-sports.com.
About Champion
Iconic and innovative, Champion continues to revolutionize apparel by merging classic designs with high-tech details. With over 100 years of quality and comfort, the global leader of athletic apparel has given athletes of all skill sets and backgrounds the confidence to be a champion. As a socially and ethically responsible company, Champion is impacting the world through philanthropy, environmentalism and community outreach.
For more information on the leaders of sportswear, visit http://www.championusa.com