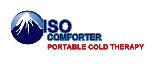 PALM CITY, Fla. (PRWEB) May 30, 2018
Iso Comforter, a cold-therapy treatment leader who recently put products on Amazon so even more people could quickly access their therapeutic products, has launched an improved hip wrap for post-op hip replacement patients.
The hip wrap is to be used in conjunction with ISO's BMNS pad and cold therapy unit. It is suitable for patients who have had hip replacement surgery, a hip injury, post-workout soreness, hip trauma, a sports injury, or other problems that cause pain or swelling of the hip joint and area.
The Iso-Hip Wrap's innovative new design is plusher than its predecessor. It is comfortable and flexible, enabling the patient to enjoy the benefits of cold therapy while resting, sitting, or standing. The wrap reduces pain and swelling. Learn more about the Iso-Hip Wrap's benefits on the company's website.
To learn more about Iso Comforter, visit the company online at isocomforter.com/blog.
About IsoComforter:
Forget melting bags of ice and messy, mushy bags of frozen peas! IsoComforter provides clean and efficient cold therapy that promotes healing while reducing the risk of infection to the damaged area. All IsoComforter's products are designed to be easy use, clean, carry, wear and maintain. IsoComforter is pleased to have its own cold therapy system that keeps wounds clean and dry with virtually no condensation, and a complete shoulder machine that helps in rotator cuff surgery recovery.
Contact Details:
IsoComforter, Inc.
4215 SW High Meadows Avenue
Palm City, Florida 34990
Phone: 1-877-277-0367
Fax: 1-772-220-6645
Source: IsoComforter, Inc.
###