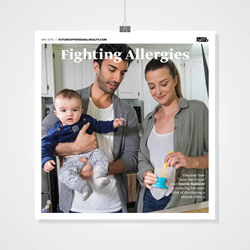 As a father, I want to do everything I can to ensure my children have the best chance at a happy, healthy life.
NEW YORK (PRWEB) May 31, 2018
As we conclude National Asthma and Allergy Awareness Month, Mediaplanet today announces the launch of this May's edition of "Fighting Allergies." This campaign will educate individuals on potential allergens that may be encountered, how to prevent adverse reactions and the best treatment options.
There are approximately 50 million people in the United States that are affected by allergies, with numbers continuing to increase. Additionally, an estimated 6 million people suffer from food allergies and are forced to make lifestyle changes to cope accordingly. There are over 200,000 trips to the emergency room made annually because of adverse reactions to allergies; over 10,000 of those become overnight stays. Diagnosing allergies properly is the best way to prevent anaphylactic reactions and determine the best treatment options.
The print component of "Fighting Allergies" is distributed within today's edition of USA Today in New York, San Francisco, Washington, D.C., Baltimore, Los Angeles, Boston, Seattle and Chicago markets, with a circulation of approximately 250,000 copies and an estimated readership of 750,000. The digital component is distributed nationally, through a vast social media strategy and across a network of top news sites and partner outlets. To explore the digital version of the campaign, click here.
New guidelines advise early introduction of peanuts to infants to avoid allergies later in life. "Jane the Virgin" star Justin Baldoni is one parent choosing to follow these guidelines. "As a father, I want to do everything I can to ensure my children have the best chance at a happy, healthy life," says Baldoni. The American College of Allergy, Asthma and Immunology's Food Allergy Committee states that most parents can introduce infants to baby-safe peanut foods around six months of age as often as they'd like.
Since then, Justin and his wife Emily continue incorporating peanuts in Maxwell's diet regularly to drastically reduce his chances of developing a peanut allergy.
This campaign was made possible with the support of Justin Baldoni, the American Academy of Allergy, Asthma and Immunology, the American College of Allergy, Asthma and Immunology, Food Allergy Research & Education, Arm & Hammer, Kaléo Pharma, Nima Labs, Celiac Disease Foundation and the Gluten Intolerance Group.
About Mediaplanet
Mediaplanet specializes in the creation of content marketing campaigns covering a variety of industries. We tell meaningful stories that educate our audience and position our clients as solution providers. Our unique ability to pair the right leaders with the right readers, through the right platforms, has made Mediaplanet a global content marketing powerhouse. Our award-winning stories have won the hearts of countless readers while serving as a valuable platform for brands and their missions. Just call us storytellers with a purpose. Please visit http://www.mediaplanet.com for more on who we are and what we do.
Press Contact:
Kaitlyn Eda
Kaitlyn.eda(at)mediaplanet.com
(646) 755-7955