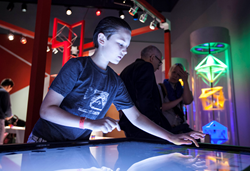 We're thrilled to bring this new hands-on exhibition to the Nashville community to give our guests a new way to actively engage with science, technology, engineering, and math using a toy they know and love. --Steve Hinkley, President & CEO of Adventure Science Center
NASHVILLE, Tenn. (PRWEB) May 30, 2018
Exasperating, exhilarating, marvelous, and maddening, Rubik's Cube has fascinated people around the world since its inception. Witness its power when the internationally acclaimed Beyond Rubik's Cube exhibition opens at Adventure Science Center on Saturday, June 2.
Through highly interactive physical and digital challenges, guests will explore how Rubik's Cube emerged from a workshop in Communist-era Hungary to become a worldwide phenomenon, fostering creativity across the fields of science, technology, engineering, robotics, the visual arts, music, film, architecture, and mathematics.
The $5 million exhibition was designed by Liberty Science Center with lead creative partner Google, and the Cube's Budapest inventor Ernő Rubik. It debuted at LSC in Jersey City, NJ, in April 2014 in celebration of the 40th anniversary of the world's bestselling puzzle toy.
"Finding ways to showcase innovation is always at the core of our mission. We want to provide experiences you can't find anywhere else, and Beyond Rubik's Cube offers the chance to do just that. It's fun for kids and adults, especially those who grew up during the worldwide phenomenon that Rubik's Cube launched many years ago and that continues today," said Steve Hinkley, Adventure Science Center President & CEO. "We're thrilled to bring this new hands-on exhibition to the Nashville community to give our guests a new way to actively engage with science, technology, engineering, and math using a toy they know and love."
As guests enter the exhibition, digital projections of color and geometry dance in response to their movement, setting the tone for the immersive experience that awaits them in three discovery zones: Invent, Play, and Inspire.
INVENT inspires guests to jump right into the complex and compelling world of puzzle toys with rare artifacts that show the origins of the Cube, a build-your-own puzzle challenge using 3D shapes, and an interactive touch table where guests can create visually stunning patterns.
PLAY offers more opportunities for hands-on exploration through an animated cube-solving guide, computer programming and robots, and even a color match game for the youngest guests.
INSPIRE encourages guests to experience the Cube's vast artistic and technological influence. From controlling a giant mechanical Rubik's Cube to engineering a musical masterpiece, guests will celebrate the Cube as a muse, metaphor, and pop culture icon.
Beyond Rubik's Cube will be on display at Adventure Science Center through Sept. 3, 2018.
# # #
About Adventure Science Center
For more than 70 years, Adventure Science Center has been bringing science to life for students, teachers and families in Middle Tennessee and across the U.S. The Science Center offers engaging learning experiences and science fun through hands-on, interactive exhibits; innovative programs; and fulldome productions in state-of-the-art Sudekum Planetarium. Adventure Science Center strives to open every mind to the wonders of science and technology, fostering a better understanding of ourselves and the world around us.
Adventure Science Center is located at 800 Fort Negley Blvd. in Nashville.
For more information about the exhibition, visit AdventureSci.org/BeyondRubiksCube or call Alexis McCoy, Director of Marketing and Communications, at (615) 669-5094.
About Liberty Science Center
Liberty Science Center (LSC.org) is a 300,000-square-foot not-for-profit learning center located in Liberty State Park on the Jersey City bank of the Hudson near the Statue of Liberty. Dedicated to bringing the power, promise, and pure fun of science and technology to people of all ages, Liberty Science Center houses 12 museum exhibition halls, a live animal collection with 110 species, giant aquariums, a 3D theater, the world's largest IMAX Dome Theater, live simulcast surgeries, a tornado-force wind simulator, K-12 classrooms and labs, and teacher-development programs. More than 250,000 students visit the Science Center each year, and tens of thousands more participate in the Center's off-site and online programs. LSC is the most visited cultural institution in New Jersey with more than 650,000 visitors annually and the largest interactive science center in the NYC-NJ metropolitan area.
Beyond Rubik's Cube was created by Liberty Science Center with Lead Creative Partner Google and the Cube's Hungarian inventor, Ernő Rubik, with generous support from Google, Government of Hungary, Bank of America, Rubiks Brand Ltd, and Ernst & Young LLP. All Rubik's trademarks are exclusively licensed by Rubiks Brand Ltd – http://www.rubiksbrand.com