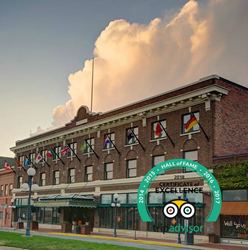 "We are so pleased to be awarded this honor and to have it based on the reviews of our guests for the past 5 years," said Thomas Maxwell, Owner of the Hotel Pattee. "This award is a credit to the staff that works so hard to provide a memorable stay to all our guests."
PERRY, Iowa (PRWEB) May 30, 2018
Located in the small town of Perry, Iowa and about 40 miles West of Des Moines is the Historical Hotel Pattee. Known as one of the Finest Historic Boutique Hotels in the World, the Hotel Pattee is a Destination upon itself. The property boasts 40 individually decorated and themed guest rooms, a state of the art bowling center, a full- service dining room and lounge, and its own dedicated library. Additional services include the Full- Service Copper Door Spa along with many other Amenities.
This year the Hotel Pattee has been awarded and inducted into the TripAdvisor Hall of Fame. The 'Hall of Fame' was created to honor those businesses that have earned a Certificate of Excellence for five consecutive years.
According to Marc Charron, President of TripAdvisor for Business: "Winning the TripAdvisor Certificate of Excellence for five consecutive years is a remarkable feat. TripAdvisor is pleased to induct five-time award winners into the 'Hall of Fame.' By putting a spotlight on businesses that are focused on consistently delivering great service to customers, TripAdvisor not only helps drive an improvement to hospitality standards around the world, it also gives businesses both large and small the ability to shine and stand out from the competition."
Since 2011, the Certificate of Excellence honors hospitality businesses that deliver consistently great service across the world. This designation is presented only to approximately 10% of total businesses on TripAdvisor that have consistently achieved great reviews over the past year. And only a small fraction of those go on to go in the 5 x winners Hall of Fame.
"We are so pleased to be awarded this honor and to have it based on the reviews of our guests for the past 5 years," said Thomas Maxwell, Owner of the Hotel Pattee. "This award is a credit to the staff that works so hard to provide a memorable stay to all our guests."
Hotel Pattee is located at 1112 Willis Avenue, Perry, IA 50220. Additional information on the Hotel Pattee is available at http://www.hotelpattee.com, by calling 515-465-3511 or emailing info@hotelpatee.com . Everyone is invited to follow along on Facebook, LinkedIn and Twitter.