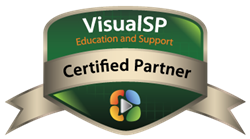 We are still looking to partner with more like-minded organizations
Chicago, IL (PRWEB) May 30, 2018
In the first 3 months of 2018, VisualSP has seen the number of partners double. It's a rapid expansion that has been credited mostly to word-of-mouth and satisfied customer testimonials.
"Our marketing efforts have helped but the good reviews played a much bigger role in this rapid expansion. Our customers amount to over 200 companies and more than 2 Million end users. It is mostly through them that consulting companies discover VisualSP and its partner programs," says Asif Rehmani, CEO at VisualSP.
The self-help system gives SharePoint and Office 365 admins reliable ways to automate training, help, and support for their end-users, resulting in organic and sustainable adoption of the platforms. To see VisualSP in action, explore the live demo here.
"When we launched VisualSP, we immediately saw the potential for growth through worldwide partnerships. So, we built the Value Added Reseller (VAR) Program. The program gives participants the opportunity to grow their consulting service revenue by building on our platform and providing value to their clients," recalls Rehmani.
The VAR Program gives consulting companies the opportunity not only to resell the solution, but also to build on top of it and provide the resulting extended help system solutions to their customers. It's an easy way for participants in the program to expand their service offerings.
Growing the usage of SharePoint and Office 365 remains a major challenge for many companies. The VisualSP Help System provides a sustainable solution to that problem. Consulting companies that enter the partnership program help their customers improve the adoption of the platforms.
"We are still looking to partner with more like-minded organizations," says Rehmani.
To find out more about the VisualSP partner programs, view the description page here. To get the conversation started with the VisualSP marketing team, call: 616-610-1082. Or, send an email to: jvanderlugt@visualsp.com.