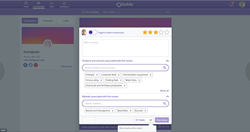 Within our trusted community of professionals looking to buy and sell, message response rates are twice as high as the response rates on LinkedIn.
BOSTON (PRWEB) May 30, 2018
Today, Koble, a leading global business matchmaking platform, officially released TrueReview for buyer and suppliers. With the launch of TrueReview, Koble is now making B2B business reviews possible via a simple user interface. Koble members can now provide trustworthy reviews of suppliers and clients via their authenticated work email. In addition, members now have the option of leaving reviews under varying degrees of anonymity to empower more honest feedback without harming professional networks.
"We're thrilled to launch TrueReview today as we continue to improve and simplify the often overly complicated process of B2B buying online," said Fabrice Saporito, Koble Founder and CEO. "While the recommendation economy has transformed the digital B2C buying process, finding a platform that enables business buyers to help other businesses buy from suppliers and vendors by sharing their experience about a service provider has proven difficult. I believe we've uncovered a solution that can vastly improve B2B eCommerce as it grows into a $1.2 trillion market by 2021."
Unlike existing professional networks where users primarily use their personal email addresses to sign up and create individually owned networks, Koble is a work-email-only site where each established connection belongs to the enterprise. By requiring its members to join with a verified company email, Koble users benefit from a high-quality audience where everyone is who they say they are.
With the launch of TrueReview, Koble's platform now adds a Yelp-like element to B2B buying. Suppliers and buyers will be ranked based on their reviews; meaning the better the recommendation, the higher the ranking.
The new feature will also strengthen Koble's network effect, given its platform is built around network reciprocity. Members of the Koble platform can review their suppliers and even their clients using different levels of anonymity:

Public review: The name of the author and company is visible
Anonymous review: Only the name of company is shown in the review
Private review: Only members of the company reviewing and matching with the client/supplier sees the review and its attachments
Company reviews are also product and market specific, which will positively impact how users find and gain access to highly targeted content within Koble's content feed. In addition, the reviews will provide more information about the buyer and supplier, while continuing to maintain a high degree of privacy. Koble allows companies to promote their businesses and more effectively discover vendors, and the review feature will make that process more seamless.
"In the age of fake news and bots, businesses of all sizes are finding a home on Koble to engage with other businesses that are who they say they are," added Saporito. "It is hardly a surprise then, that within our trusted community of professionals looking to buy and sell, message response rates are twice as high as the response rates on LinkedIn, and Koble's click-through rate on interactions is more than five-times the average seen on the world's current largest professional network."
About Koble
Koble is a B2B matchmaking service that connects larger companies and smaller businesses.
A buyer friendly community where content sparks meaningful conversations, Koble promotes authenticity, privacy and relevance to help professionals uncover genuine business relationships.
On the app, a match is created after a user has shown interest in the content posted by another user or by viewing its profile. From here the user can start a chat with their match and convince them to reveal their identity. When successful, users are free to connect, meet and freely communicate.
By keeping the personal identity of interested users anonymous on one side and removing the need for introductions on the other, we protect users identity while taking away the awkwardness out of networking.
By encouraging our users to ask for help or share original content from their company with the community they join, we've seen new relationships being formed in over 1 out of 3 matches!
Koble is headquartered in Boston.To learn how Koble can help you make more valuable business connections, visit http://www.koble.com.