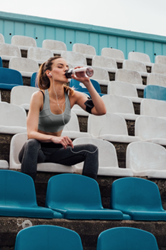 SAN FRANCISCO (PRWEB) May 30, 2018
Feed.fm today announces the launch of Fitness.fm, the music licensing and curation platform specifically designed to improve customer retention and increase the health of any fitness app's user base. As fitness app makers bring incredible coaching content to consumers, pairing an equivalent and motivating music soundtrack is no simple feat. Fitness app subscribers who are part of an $83 billion global fitness and health club industry expect a high quality experience and music is a key element of the user experience. For app developers, dealing with the labels is outrageously expensive, and operating out of compliance is dangerous. When it comes to partnering on music, top fitness companies like Sworkit, MoveWith, DailyBurn, Fitbit Coach, and Moov Studio have chosen Feed.fm and the Fitness.fm solution to bring the right music to their app subscribers.
"Feed.fm is thrilled to bring background music to the forefront as more consumers flock to innovative coaching apps that are reinventing the traditional gym experience," said Feed.fm CEO and co-founder Jeff Yasuda. "With Fitness.fm, app makers don't have to send their valuable customers off to a third party streaming service, and we curate the right music for each segment of the workout."
The Sound of Success
While Spotify's recent IPO brought great attention to the consumer streaming music category, it also highlights the fact that business to business music solutions are ripe for change. Adding digital background music presents several difficult challenges for any business, most especially a fitness app. First, it's extremely expensive to engage with the music industry at scale. It's one thing to legally play a single song, but it's a completely different financial commitment to have access to a robust library that supports a wide variety of classes, instructors, and members. Next, everyone thinks they are a DJ; not true. The ability to correctly curate the right mix of songs for the right audience is truly a specialty and requires a hybrid approach; algorithms + humans. Last and most importantly, being able to traverse all of the legal headaches and pitfalls of the music industry is typically not typically a priority for content owners.
Fitness.fm has seen rapid growth in 2018 thanks to its ability to drive the following outcomes:
Churn Reduction: fitness app partners typically see a 2x improvement in D90 retention when Feed.fm music is integrated into the user experience.
Improved User Experience: expertise and editorial curation (algorithms + humans) built in means you don't send your users off to a 3rd party platform like Spotify.
Broader Music Appeal: BPM, genre, or workout-specific mixes based on access to all popular music - not just a single label.
Seamless Integration: simple SDK embeds into the app.
Actionable Insights: crucial to understanding how end users are reacting to music choices.
Global Music Coverage: consistent user experience across country borders.
Offline Workout Support: trail runners and outdoor cyclists are no longer at the mercy of wifi or cell signal for coaching instruction.
About Feed.fm
Feed.fm amplifies customer engagement with music. Music is proven to drive user retention, social engagement and workout motivation. Top brands like Fitbit Coach, MoveWith, Pear Sports, ClassPass, ASICS, DailyBurn and the LA Marathon are working with Feed.fm to integrate popular music in their workout experiences. Based in San Francisco, Feed.fm is funded by Crunchfund, Core Ventures Group, KEC Ventures, and Fyrfly.