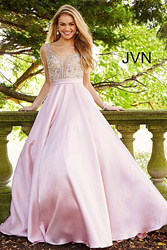 Prom is one of the most important nights in a young woman's life, and she deserves to look like a genuine superstar.
NEW YORK (PRWEB) May 29, 2018
A May 23 slideshow on Entertainment Weekly features 14 celebrity prom pictures with nostalgic teenage versions of such luminaries to-be as Halle Berry, Amy Poehler, Margot Robbie, Fergie, and Meg Ryan. JVN Fashion Ltd. says that the pictures are a reminder that even superstars were just ordinary youngsters at one point. The value-minded designer and manufacturer adds that prom is one of the most important nights in a young woman's life, and she deserves to look like a genuine superstar.
The firms, which says that it specializes in outstanding fashions that are affordably priced, notes that the current JVN Fashion line of prom dresses features something for just about every young woman, whatever her preferences. Examples of dresses on offer include a red beaded V-neck backless outfit, a burgundy embellished sleeveless tulle ball gown, a royal blue mesh dress with a plunging necklines and a crisscross back, and a teal mermaid off-the-shoulder outfit that JVN says is certain to grab plenty of attention on the big night. Available colors also include charcoal, purple, bubblegum pink, ivory, black, and gorgeous floral patterns in blue, rose red and pink, says the clothes maker. All dresses are, of course, made with the kind of top quality material that will help young women look and feel their best at prom.
JVN Fashion Ltd. adds that prom season is still at its height. Anyone looking right now for dresses knows that the rush is really on, so the earlier a dress buyer makes a choice, the better off she will be. It adds that, for those who are looking forward in time and anticipating going to prom in 2019, it's never too early to start looking at what's out there. There's hope for the last minute shopper, but the early bird might well catch the best deals, says the firm.
About JVN Fashion Ltd.
A division of Jovani Fashion, JVN Fashion Ltd. is committed to providing young women with fabulous style, amazing design, top quality, and affordable prices. It offers dresses for every occasion from prom, cocktail, homecoming, ball gowns, evening dresses, jumpsuits, bridesmaid dresses and much more. For further information, please visit the JVN Fashion Ltd web site.