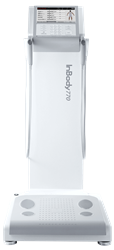 "InBody devices provide a personalized, research-backed and detailed approach to treating and preventing injuries," said Jon Bennett, clinical research manager at InBody. "Data generated by the devices track changes in the patient's body water, fat and muscle mass to optimize athletic performance."
CERRITOS, CA (PRWEB) May 29, 2018
InBody, a medical device manufacturer, will showcase its body composition analyzers at the American College of Sports Medicine (ACSM) Annual Meeting, May 30 to June 2. The conference will be held at the Minneapolis Convention Center in Minneapolis, Minnesota. InBody will offer complimentary body composition analyses on the InBody 770 at booth #401.
"InBody devices provide a personalized, research-backed and detailed approach to treating and preventing injuries," said Jon Bennett, clinical research manager at InBody. "Data generated by the devices track changes in the patient's body water, fat and muscle mass to optimize athletic performance."
In 60 seconds, the medically validated InBody 770 will provide ACSM attendees with outputs like:

Muscle-Fat Balance, Visceral Fat and Basal Metabolic Rate: Learn how much muscle and fat a person has, including metabolically harmful visceral fat. Use BMR to set proper nutrition recommendations.
Segmental lean analysis: Monitor lean mass in the arms, trunk, and legs separately to assess muscle development or loss
Segmental Body Water Analysis: Track intracellular and extracellular water in the arms, trunk, and legs to identify edema resulting from overtraining or injury
InBody devices are space-efficient and don't rely on preloaded data related to age, gender or ethnicity. Information about professional demos, consultations and validation studies will also be available at InBody's booth.
About InBody
Founded in 1996, InBody has been changing the health and wellness industry for over 20 years. InBody's award-winning, medically validated devices are used by professionals and consumers in the medical, fitness, research and corporate wellness verticals. Recognized for manufacturing easy, quick and precise body composition analyzers, InBody helps people redefine their health by providing accurate outputs like percent body fat, segmental muscle analysis and, total body water.
For more information, please visit http://www.inbody.com
###