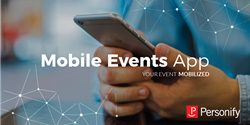 "The Personify mobile events app is designed to meet the needs of any event, from large trade shows to small conferences and everything in between"
AUSTIN, Texas (PRWEB) May 30, 2018
Personify, the leading provider of technology solutions for nonprofit organizations including associations, charities and health and wellness organizations, launched its new mobile events app, an industry-leading event technology designed to meet the needs of any size event including trade shows, conferences, exhibitions, symposiums and corporate events among other uses throughout their programs.
Personify empowers organizations to more effectively manage member engagement across every area of their business, which includes planning and executing successful events and program activities. The mobile events app is powered by Personify partner Core-apps and it offers an extensive list of bundled features designed to drive engagement before, during and after an event, to meet the unique needs of any organization.
Attendees can use the app to build a personal schedule before the event, navigate the event space with interactive maps and view agenda details that can be customized in real time. They can take notes, download handouts, submit real-time feedback, share on social media and network with other users, all within the app during the event.
"The Personify mobile app for events is designed to meet the needs of any event, from large trade shows to small conferences and everything in between," said Eric Thurston, President and CEO of Personify. "Nonprofit organizations increasingly engage with members through in-person events and this technology personalizes that experience."
Mobile events app can be configured to adopt any brand, identity or theme and seamlessly integrates with the top CRMs and database tools such as Salesforce, Sharepoint and more. The app also allows for gamification options so that event organizers can engage with attendees and incentivize them to interact with multiple event aspects. Once configured, attendees can find an organization's app via the Apple App Store and Google Play Store on their mobile devices.
Jay Tokosch, CEO of Core-apps says the partnership with Personify is a natural fit. "Core-apps shares a lot of the same values as Personify when it comes to offering industry-leading technology and experiences for event attendees. Partnering with Personify allows us to collaborate with their team and extend our platform to their audience, giving their clients a one-stop-shop for the industry's most comprehensive event technology solutions. We know event organizers that use Personify's platform, want the best experience with the least complication and that is what this partnership gives them."
###
About Personify
Personify is the leading solution provider that empowers the best constituent-focused organizations to succeed. Personify's suite of products and services enable organizations to better understand, engage, manage and monetize the relationships with their constituents in a manner that benefits everyone involved. As an organization's technology foundation, Personify captures and provides insight across all constituent interactions, allowing them to maximize engagement and drive revenue. For more information, visit personifycorp.com.