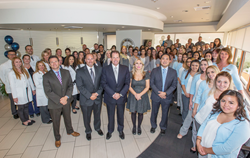 Thank you to each and every team member for making SpineNevada a Best Place to Work!
RENO, Nev. (PRWEB) May 31, 2018
SpineNevada, a regional leader in comprehensive spine and musculoskeletal care, is proud to announce its recognition by Modern Healthcare's 2018 Best Places to Work in Healthcare program. The complete list of 2018 winners, in alphabetical order, is available here. Modern Healthcare will publish a special supplement featuring ranked lists of all the winners along with the October 1 issue.
"The Best Places to Work recognition is significant because it's based on surveys completed by our team," said James J. Lynch, MD, CEO and Chairman of SpineNevada. "It takes a high level of commitment from team members throughout the organization to make a best place to work. With unemployment levels at 18 year lows, we understand there's a high level of competition for top talent. Companies recognized in this year's list of Best Places to Work in Healthcare truly stand out in their efforts to create empowered and satisfied teams. We are dedicated to continuous improvement as an organization and greatly honored to be among this exclusive class of nationally leading companies. Thank you to each and every team member for making SpineNevada a Best Place to Work!"
About the Modern Healthcare Best Places to Work program
This award program identifies and recognizes outstanding employers in the healthcare industry nationwide. Modern Healthcare partners with the Best Companies Group on the assessment process, which includes an extensive employee survey. "This year's best places to work, voted on by the employees themselves, exemplify what it takes to maintain dedication and satisfaction among its employees and that is the key to good patient care," said Modern Healthcare Editor Aurora Aguilar. SpineNevada will be honored at the 2018 Best Places to Work in Healthcare awards gala on Thursday, September 27, 2018 at the Renaissance Dallas.
About SpineNevada
SpineNevada's multidisciplinary team combines non-surgical physical medicine physicians, fellowship-trained specialists in radiology and spinal neurosurgery and physical therapists. Our health care team of professionals pools together their expertise to develop the best treatment plan for each patient. The center includes internal physical therapy, injection suites and injection therapy, open and weight-bearing MRI and X-ray capabilities. SpineNevada takes a team approach to healthcare, our physicians have over 40 years of experience in the field of spine and musculoskeletal care. SpineNevada is currently recruiting for physical medicine and rehab physicians to join the growing practice.
Founded by Dr. Lynch in 2004, SpineNevada's goal is to be recognized as a regional center of excellence that demonstrates innovation in non-surgical and surgical spine care, and then documents its superior care with clinical outcomes. The center's mission is to help its patients return to active lives, through compassionate, evidence-based care, including non-surgical treatment options and the most technologically advanced minimally invasive surgical techniques.