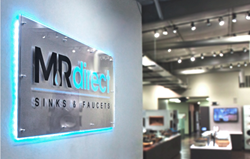 TOLEDO, Ohio (PRWEB) May 31, 2018
MR Direct International, a noted supplier and distributor of its own distinctive MR Direct brand of sinks and faucets, recently made a thorough examination of its identity. Since its founding in 2004, periodic adjustments have been made to the MR Direct image to keep up with the changing culture of the kitchen and bath industry. This latest assessment revealed that a more extensive rebranding effort would serve them well.
"All of our assets felt disconnected," explained Creative Director, Erik Gonzalez. "We were sending a confusing message. That's why we set a primary goal of offering the customer consistency across all platforms. This included finding our voice. We are a welcoming and approachable company and that needed to be self-evident to our customers. Our new voice is one of genuine concern for the customer's needs and success, consistently expressed in a simple, direct tone."
The company's logo also received its first major update in several years. Marketing Director, Paul Best observed, "It's generally understood that the company logo, for good or bad, is what makes the first impression with a potential customer. It's the key identifier that states 'This is who we are!' Our mark seemed to say, 'This is who we were!' The MR Direct team determined that the new logo should exude a bold, modern presence, brought to life with a brighter and more exciting blue.
"Our second goal was modernization. With technology and devices always improving, we need to maintain a dynamic and pleasant online customer experience," Gonzalez said. "We've streamlined the checkout process and put more emphasis on our avenues of contact such as live chat. We rely on an evaluation of each experience with our customers to further refine our processes."
Because the website was sometimes cluttered and cumbersome to scroll through, a few fundamental changes have been made. The site has a lighter, fresher feel. White space abounds and clean lifestyle images are larger and more appealing. The turquoise blue of old has been replaced with a rich, sky blue. And navigation is obvious and precise.
The new, consistent branding and voice of MR Direct now carries over to all advertising venues, social media platforms, and e-commerce sites. And after just a few months, the re-tooling has drawn a very positive customer response. It can be viewed at: http://www.MRDirectint.com