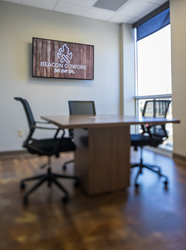 While I love having the option to work at home, I wanted a cozy, productive space to really thrive in near the downtown and midtown energy I love so much.
RENO, Nev. (PRWEB) May 31, 2018
Beacon CoWork, which connects people that need to be connected, recently opened coworking spaces that will be located at 140 Washington Street between the Riverwalk and 2nd Street in Reno. This is the latest of several coworking spaces to open its doors in the region.
"The numbers show there's a huge need for this type of space in our marketplace right now," said Founder and Firestarter Nikki McGuire. "As home prices have skyrocketed in Reno over the past few years, so has the cost of office space. Some small businesses simply can't afford to carry the burden of a lease on their own."
Beacon is destined to be one of the region's hot spots for startups and remote workers due to a full suite of amenities, a fresh, modern design, multiple membership tiers and student rates. Founded by University of Nevada, Reno (UNR) graduate student McGuire, with the help of her mentor and former professor, the space meets the needs she said she felt were lacking as a working professional.
"It was important that I could easily get to the office, park on-site, and really feel at home in a beautiful workspace," McGuire said. "While I love having the option to work at home, I wanted a cozy, productive space to really thrive in near the downtown and midtown energy I love so much."
Commercial Real Estate Broker and UNR Business Instructor Dan Oster is guiding the project. As principal and senior VP of NAI Alliance, a full-service commercial real estate company with years of collective experience in office, industrial, retail, land, multi-family and investment brokerage and commercial property management, Oster supports McGuire's mission to better meet the needs of his own clientele.
"We just don't have the inventory for the businesses who are starting out right now," he said. "If it's not the price point that's an issue, it's the commitment to a lease that's keeping them from finding a place."
The team worked with bonafide masters of office design Henriksen Butler to curate the space in a mountain chic motif. Its services include furniture planning, project management, delivery and installation. Memberships are currently available at a presale discount prior to opening day May 15, 2018.
About Beacon CoWork
Beacon CoWork is a highly functional and beautifully designed coworking space aimed to help professionals aim a little higher each day. Located in Reno's developing West District, it is a beacon to small businesses and independent professionals working in or around the Reno area. Beacon provides a full suite of options including coworking areas, dedicated desks, conference rooms, high-speed internet, a commercial printer and copier, secure document destruction, personal lockers, a kitchen, complimentary coffee, lending library, hardware rentals, social and professional event access, virtual office memberships, student and corporate rates, and daily or monthly memberships. Just steps from the Reno Riverwalk, parks, restaurants and more, this convenient location is easy to access and provides ample parking. To learn more, visit http://www.thebeaconcowork.com.
About the NALA™
The NALA offers small and medium-sized businesses effective ways to reach customers through new media. As a single-agency source, the NALA helps businesses flourish in their local community. The NALA's mission is to promote a business' relevant and newsworthy events and achievements, both online and through traditional media. The information and content in this article are not in conjunction with the views of the NALA. For media inquiries, please call 805.650.6121, ext. 361.