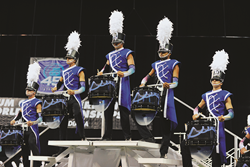 The entire DCI organization is committed to ensuring change and education to deliver a safe environment for the thousands of program participants.
INDIANAPOLIS (PRWEB) May 30, 2018
Drum Corps International (DCI) has announced new measures ensuring that all participating organizations within the DCI community have standards in place that demonstrate an unwavering commitment to the health and safety of its performers, staff, and volunteers. Through a series of actions, the DCI Board of Directors is securing organizations' adherence to all Core Values of DCI, particularly that of Mutual Care and Respect.
The focus on participant safety began with work on updating existing policies in conjunction with adopting a new 5-year DCI Strategic Plan in 2017. The strategic goals call for detailed action to help safeguard health, safety, and wellness standards for all performers, staff, and volunteers throughout the entire DCI community.
Each participating organization within the DCI community is an independent non-profit operating with its own board of directors, policies and procedures, and state laws to follow. The overarching DCI framework provides leadership for the community of organizations and has strengthened policies and directed every member organization of the DCI community to respond accordingly.
At its meeting earlier this month, the DCI board began by strengthening three existing policies with requirements that all participating organizations demonstrate they have the appropriate participant safety measures in place – background checks for all staff members, required document submissions by each organization to DCI, and compliance enforcement.
Next, the DCI board passed the comprehensive new DCI Community Code of Conduct and Ethics Guidelines, which includes clear definitions of many forms of misconduct, measures for individual and organizational accountability, and mandatory reporting guidelines. Consistent with the DCI Strategic Plan, the adopted guidelines set clear expectations for all participating organizations in DCI programs and activities, while promoting greater awareness and clarity of DCI's values.
The Code includes conduct-related policies and mutually-shared standards of conduct, professionalism, civility and respect towards one another:

Respect for the DCI mission.
Respect for others.
Professionalism and ethics.
Prohibition against discrimination.
Prohibition against sexual misconduct.
Prohibition against retaliation.
With the new guidelines now in place, the leadership of each DCI-affiliated organization must evaluate them against their existing policies, along with the laws applicable to their individual organizations, and act to update policies and practice. Safety, education, and building an environment that welcomes reporting are all critical components of a positive marching music experience.
DCI Executive Director and CEO Dan Acheson said, "The entire DCI organization is committed to ensuring change and education to deliver a safe environment for the thousands of program participants. We are working with all of our participating organizations to prevent sexual harassment, gender discrimination, and sexual misconduct as we enter an entirely new era of participant safety awareness and ethical compliance."
To intensify the focus on safety and well-being, the entire DCI community will pause together on Saturday, June 9 for an internal live broadcast that every participating corps can join. The interactive training session will expand on the base of the DCI Core Value of Mutual Care and Respect, which states, "DCI treats all with dignity, courtesy, attention, and appreciation; and seeks these traits in others with whom it engages."
DCI Board Chair Kathy Black explained, "This unprecedented event will allow everyone within the DCI community to share simultaneously in the explanation of the new DCI Community Code of Conduct and Ethics Guidelines along with individual expectations. This will absolutely increase awareness of possible misconduct, improve our fundamentally positive culture, and help to prevent, identify and address misconduct of all forms."
Acheson added, "We are enthusiastic about the actions we have taken to strengthen policies and procedures for safety across the spectrum of activities throughout DCI. As we head into the summer tour, we are confident that these collective efforts will produce an enhanced experience for performers, staff, volunteers, and our fans."
DCI's 2018 competitive season opens with the DCI Tour Premiere on Thursday, June 21 at Ford Field in Detroit, Michigan – an event that will also broadcast live to nearly 500 movie theaters across the country.
Drum Corps International is the world leader in producing and sanctioning competitive events for the world's most elite and exclusive touring marching music ensembles for student musicians and performers. For additional organization details along with schedule and ticket information, visit http://www.dci.org.