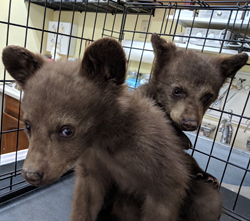 This is exactly why people shouldn't feed wild animals, said Wildlife Advocate Jack Hanna.
WILLIAMS, Ariz. (PRWEB) May 30, 2018
Bearizona, a popular wildlife park near the Grand Canyon devoted to providing homes to wild animals in need, rescued two tiny black bear cubs who were left in the Arizona woods this week without a mom. The 4-month-old bear cubs were discovered hiding at the top of a 75-foot tree a day after their mother was taken by the Arizona Game and Fish Department from a residential neighborhood in Pinetop-Lakeside, Arizona, where a woman had been feeding the bear daily.
"Habituation of wild animals is happening more now than ever. This is exactly why people shouldn't feed wild animals," said Wildlife Advocate Jack Hanna.
This was the second time the Arizona Game and Fish Department had attempted to relocate this bear from a residential area back into the wilderness, which meant she ultimately had to be put down. Unfortunately, she was euthanized before the department discovered a day later that she had been the mother of two helpless 15-pound cubs. The baby bears were ultimately rescued by a professional tree climber, who lowered them back down to safety in a backpack. The cubs were then taken to Dr. Ole Alcumbrac at White Mountain Animal Hospital, who called Bearizona to see if the park could rescue the cubs and provide them with a permanent home.
"We have a no-breeding program for bears at Bearizona, so we can help save bears and offer them a new home," said Bearizona Owner Sean Casey. "Although the circumstances behind this rescue are unfortunate, we are ultimately grateful to be able to provide a safe and loving home for these two little cubs."
Hanna said it is fortunate there are places like Bearizona to help rescue animals in need.
"Bearizona habitats are some of the best in the entire country," he said. "If I come back as a bear, I want to live at Bearizona."
The young cubs will be quarantined and closely monitored by veterinarians and animal staff for 30 days before inheriting their own exhibit in the walk-through section of the park, Fort Bearizona. The public will be able to see the cubs in their new home beginning Friday, June 29.
"Bears are born the size of a stick of butter, usually in January, so we are able to tell these cubs are about four months old since they are each 15 pounds. They were on solids already, so we don't have to feed them formula of any kind," said Bearizona Animal Staff Director Dave O'Connell. "At this age, they are still learning how to climb and dig and stuff, so we want to keep them on their own until they are about a year old. Then we'll teach them how to socialize by introducing them to other young bears in our 'Bear Kindergarten.'"
Bearizona is a drive- and walk-through wildlife park whose mission is to rescue wild animals in need of new homes and promote conservation by inviting visitors to view wildlife in spacious, natural environments. Since it was founded in 2010, Bearizona has fast-become a must-see attraction when visiting the Grand Canyon's South Rim or driving through Northern Arizona. It was voted among the top three wildlife parks by the annual USA Today Readers' Choice Awards twice in the past two years.
For more information, visit http://www.bearizona.com.
###
About Bearizona
Bearizona is a drive- and walk-through wildlife park south of the Grand Canyon in Williams, AZ, near the intersection of Historic Route 66, Interstate 40 and Highway 64. The park's mission is to rescue wild animals in need of new homes and promote conservation by fostering memorable and educational encounters with North American wildlife in natural environments. Bearizona invites guests to take a scenic, three-mile drive through packs and herds of wild animals followed by a leisurely stroll through Fort Bearizona, where additional animals can be seen beneath the towering ponderosa pines of Coconino National Forest.
Media Contact:
April White
april(at)bearizona(dot)com
928-890-7729